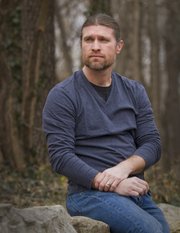 Helping hands
Meals on Wheels is always in need of volunteers, especially during the winter months, when Kansas University student volunteers are gone and inclement weather makes it difficult for older volunteer drivers to venture out.
To find out more, contact Meals on Wheels at (785) 830-8844 or online.
David Vance remembers as a kid phoning his grandmother who lived in Belfast, Ireland, and she wouldn't be available to talk because she was hurrying off to deliver meals to shut-ins.
His grandmother's dedication to taking nourishing meals to her elderly neighbors made a big impression on Vance.
So in 2008, he said, "After Obama's election, initially there was a push for volunteering. I had done volunteering, and I know how important it is, so I was going through the types of volunteering I could fit in."
He thought of his grandmother and decided to follow in her footsteps by volunteering for Lawrence Meals on Wheels. Since then, Vance, an architect with his own firm, Openhandesign, has spent his lunch hour every Friday delivering hot, nutritious meals to the folks on his regular route.
And when the Meals on Wheels staff is in a pinch, he's quick to help out by driving additional routes on additional days.
"Whenever a driver cancels at the last minute or forgets, we call David. He is always willing to help out," said Kim Culliss, executive director for Lawrence Meals on Wheels. "David has a full-time job and a family, and still finds time to help."
That's why Culliss nominated Vance for the United Way Roger Hill Volunteer Center's 2010 Wallace Galluzzi Outstanding Volunteer Award.
Meals on Wheels depends upon volunteer drivers like Vance to deliver over 100 meals a day to homebound individuals who have special dietary needs.
"The bigger thing the volunteers provide is friendship," Culliss said. "Someone is checking on them, is interested, will say hello."
The good feelings go both ways, Culliss points out.
"Often our drivers say they get more out of it than the clients do, to deliver to folks, check on them and keep track of them. Real friendships form."
Vance now understands why his grandmother was so enthusiastic about delivering meals to the homebound, and about volunteering in general.
"It's been a great experience," he said. "It has good humanity to it. I like that interaction. People get too focused on their own lives and their own things, and they don't realize that volunteering is a simple thing to do. It really knits you into being part of the community. Sometimes it feels awkward to step into someone else's world, but those experiences make you feel interconnected with the people you live around."
Copyright 2018 The Lawrence Journal-World. All rights reserved. This material may not be published, broadcast, rewritten or redistributed. We strive to uphold our values for every story published.