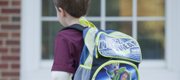 Subscribe to the email edition of First Bell and we'll deliver you the latest local education news and notes every weekday at noon.
Turns out Free State High School students won't need to make up as much time as originally thought.
Earlier this month, Lawrence school district administrators calculated that the school's more than 1,500 students would need to receive another 289 minutes — that's 4.81 hours — of instruction to account for a day of classes lost Dec. 1, when the school was evacuated just before classes were to begin after the discovery of a handwritten bomb threat taped to the front door.
A subsequent "thorough examination" of the high school schedule revealed that students would need to make up only another 239 minutes to meet the state's requirements for completing a year of school.
On Thursday, the district released its revised schedule for Free State for the coming semester. Classes on "Block" Wednesdays and "Block" and "Assembly" Thursdays — excluding "zero hour" classes Wednesday mornings — will be extended by five minutes each up until Spring Break. The changes will give students 245 minutes of makeup instructional time.
Do the math, and that's six minutes to spare.
•••
With the 2012 session of the Kansas Legislature set to begin in January, education employees, supporters, observers and others will keep watchful eyes on the fate of Gov. Sam Brownback's plan for overhauling the state's financing formula for schools.
The plan would take effect for the 2013-14 school year, and give individual districts the chance to increase local spending — in effect, by eliminating the existing cap on each district's Local Option Budget.
Word is that districts wouldn't need to secure public approval before increasing the amount of money collected — by increasing the rate of property taxes paid — at the local level for operations and other spending.
But any decision to boost such spending would need to come from an elected school board. And any such decision by a local school board could be challenged by a protest petition, one signed by a qualified number of registered voters in a particular district calling for the tax not to be raised.
The board then could choose to rescind the decision to boost taxes, or allow it to proceed to a public vote.
Rick Doll, superintendent of the Lawrence school district, said that many people would be following the governor's plan as it makes its way through the legislative process. He suspects that it will face changes.
Whether the ability to raise taxes for operations — something that some districts have sought, but others have opposed because of concerns about equity statewide — will make it through the process and withstand any potential challenges in court, of course, remains to be seen.
Of course, there's no certainty that the Lawrence school board would seek to increase property taxes for schools. And there's no guarantee that voters would agree to any proposed increase, either through passive assent or an actual public vote.
"I'm not making any presumption that voters would approve that," Doll said earlier this week. "We would have to be very, very careful about any increase in local taxes. … Any increase in the local effort, the board would have to be very careful about."
The district already is mulling the possibility of proposing a bond issue that would finance millions of dollars in renovations, upgrades and even new construction for elementary schools, a prospect being discussed by members of the district's Central and East Lawrence Elementary School Consolidation Working Group.
Group members include representatives from six schools already identified as candidates for consolidation: Cordley, Hillcrest, Kennedy, New York, Pinckney and Sunset Hill. All already have proposed scenarios for potential school closures and combinations; Cordley's representatives, for example, envision possibilities for consolidating schools in eastern Lawrence but recommend against combining any schools in central Lawrence.
The group's next meeting is 7 p.m. Monday at district headquarters, 110 McDonald Drive.
•••
After another week of news and notes from the school scene, First Bell once again is going on break — call it Late Winter Recess. The next edition will be posted Jan. 10.
Thanks for reading in 2011, and I look forward to keeping the educational conversation going in the new year.
Copyright 2018 The Lawrence Journal-World. All rights reserved. This material may not be published, broadcast, rewritten or redistributed. We strive to uphold our values for every story published.