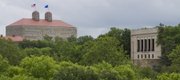 Subscribe to the email edition of Heard on the Hill and we'll deliver you the latest KU news and notes every weekday at noon.
Your daily dose of news, notes and links from around Kansas University.
• So I was in Olathe over the Christmas holiday weekend, and I spotted a license plate on the front of a black Mazda that read "JAYHAWK."
I got a little excited, because I thought I might have discovered the one person in the entire state who had that plate.
You may remember colleague Mark Fagan's 2010 story on the new rule limiting plates to one per state, instead of one per county. Eleanor Nelson had the Douglas County "JAYHAWK" plate for 33 years.
So I left my business card on the car, and asked the owner to call me back.
Frank Taylor, an Olathe attorney, spotted the card and actually did call me, but — as some more astute readers may have already sussed out — he said he wasn't the one who had the plate.
He had the Johnson County version for awhile, but he, too, had to get a new plate a year ago because of the new rule.
The real plate — the one on the back of the car that I didn't see — now reads "JHAWKJD." But he kept "JAYHAWK" on the front.
Taylor inherited that plate from former Kansas Senate President Bud Burke, who let Taylor take it as a thank-you for work on Burke's campaign.
I asked if Taylor knew who had the "JAYHAWK" plate now, and he didn't. I'd love to find out, if anyone knows. Surely the person who drives around with "JAYHAWK" on the back of their car is a Heard on the Hill reader, right?
• KU Medical Center is looking for ways to incorporate Google Fiber, the super-duper high-speed Internet connection coming to Kansas City, Kan. Here's a website where you can chime in if you've got some great ideas.
Meanwhile, KUMC will be trotting out some of their ideas in tests and other applications early next year.
That'll be an interesting development to follow.
• And I'll leave you with a profile in the Pittsburg Morning Sun of Eddie Penner, a Pittsburg law student who will compete in the National Moot Court Competition next month.
Penner and his partner Jill Moenius will be competing Jan. 30 through Feb. 2 in New York City.
• You don't need Google Fiber to send tips for Heard on the Hill to ahyland@ljworld.com. A regular old Internet connection will do just fine.
Copyright 2018 The Lawrence Journal-World. All rights reserved. This material may not be published, broadcast, rewritten or redistributed. We strive to uphold our values for every story published.