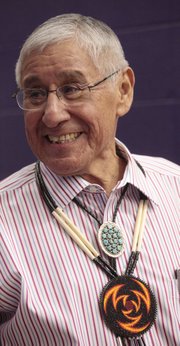 According to those who knew Phil Homeratha, Haskell Indian Nations University lost an incomparable member of its community and history Thursday, when the longtime educator and coach died at 68.
In his 40 years of service at Haskell, no one impacted the athletic department quite like the smiling, influential figure many knew as "Ironman."
While at the school, Homeratha became a bit of an institution. He not only served as athletic director, but also at one point or another coached every sport the school offered except women's volleyball and taught every class in health and physical education. He chaired and served on numerous academic committees, as well.
Diagnosed in February with Stage 4 colon cancer, his death conjured up many fond memories for Homeratha's former players and colleagues.
Said Cassie Kelly, who played basketball for him from 1999 to 2003: "Homeratha and Haskell are just synonymous."
Though the coach left his fingerprints all over the HINU athletic department, he was most recently readily associated with the women's basketball program, which he led from 1995 to 2011.
Marzha Fritzler played for him for four years between 1996 and 2001 and said his Ironman nickname suited him well.
"An Ironman was a competitor, an Ironman was tough, and that was him," she said. "As his players, we were lucky, because we got to see the softer side to the Ironman."
Fritzler described Homeratha as a compassionate coach, and Terra Houska, who played for him from 1999 to 2001, agreed. For many players, Houska said, he was a father away from home who always looked out for them. From life advice to rides to the grocery store, Homeratha had everything covered.
"He was just always there for us," Houska said.
Kelly said Homeratha was a never-ending source for advice, from where to get an oil change to how to handle being an adult.
"He's a huge motivator," Kelly said. "Not just on the court and running a play, just in general: knowing you have to show up to class, knowing how to shake somebody's hand, knowing how to address your elders."
The little things, she added, made him unique.
One time, Kelly recalled, the coach went out of town, and when he returned he had T-shirts for all of the players. He had spotted the shirts at a store, and they reminded him of the team.
One season, Houska remembered, the players convinced Homeratha to take them to Olive Garden after almost every game. And if they went on a road trip and there was a landmark or museum in the town they were visiting, he would often take them there.
"He did everything he could to treat us all like we were royalty," Houska said, "or a national championship team, constantly."
Added Kelly: "I don't know how he found time in the world to do all these things."
He also found time to build winning teams.
Homeratha, Fritzler related, was quite proud of leading basketball teams to the national tournament in three different decades — the Haskell men's team went in 1987, and the women's team qualified in 1999 and 2010.
In a release from HINU, the school's president, Chris Redman, addressed just how much Homeratha meant to the Haskell community.
"It is difficult to express in words the impact coach Homeratha had on the lives of our students, faculty, staff and the athletic program at Haskell over the years," Redman said in the statement. "His selfless, tireless and dedicated service is unparalleled to anyone I've ever known. The motivation and positive attitude he brought into our lives and those who have worked with him will be remembered forever."
Homeratha's time at Haskell dates to when it was a high school and he was a student there. Jerry Tuckwin was a classmate and teammate of Homeratha's from 1957 to 1961. Later, the two would both become coaches at the college. Tuckwin, who coached track and cross country at Haskell, said his colleague was devoted to students in every aspect.
"He had dedicated 40 years of his adult life to Haskell — not only to faculty and staff, but most importantly to students, and he was a great, great mentor to them," Tuckwin said. "Kids come back and thank him for him pushing them hard in academics. That was his primary thing: make sure they got an education, and then also contribute to their athletic development."
Gary Tanner, now the men's golf coach at HINU, was recruited by Homeratha to wrestle and play football at the college in the late 1970s. Eventually, Homeratha asked Tanner to coach the football team, which he did from 1986 to 2000.
According to Tanner, Homeratha's impact at HINU was immeasurable.
"He gave his life to Haskell and Haskell athletics, and not just the Haskell community, but the Lawrence community," Tanner said.
Thursday on the HINU campus, a ceremonial fire was lit in memory of the school's sports patriarch.
Tanner said it was a sad day for all who knew Homeratha.
"Even though we knew it was coming, it's a shock, because after 40 years, all of a sudden he's not here," Tanner said.
As far as Fritzler was concerned, her coach lived up to his Ironman title as he battled cancer.
"He fought it the way we all expected him to fight it, with just his tenacious spirit," she said. "He gave it hell. He gave it his best."
The countless friendships and relationships Homeratha forged at HINU, Tanner said, will make his presence irreplaceable — "Not just today, but I think we'll feel the effects of this for some time to come."
Copyright 2017 The Lawrence Journal-World. All rights reserved. This material may not be published, broadcast, rewritten or redistributed. We strive to uphold our values for every story published.