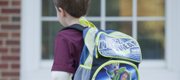 Subscribe to the email edition of First Bell and we'll deliver you the latest local education news and notes every weekday at noon.
With more than a week still to go in Winter Recess — elementary and middle school students go back to class Jan. 4, while high schoolers return a day later — there's still time for parents and others to help their students sharpen their math skills during the break.
Or at least prevent numbers-crunching proficiency from moving into negative territory.
The National Council of Teachers of Mathematics provides a list of ideas for maintaining math interest and abilities during the time off. There are a dozen suggestions on the list (yes, I stretched my own skills and added them up), ranging from useful websites to crafts and number games.
The list looks pretty solid, and it's nice to know that some of the goofy stuff I come up with at home actually appears to add to the educational good.
Then again, here's a tip I won't be using: "As a family, track your calorie intake. … Are you consuming more food during the holiday season than you would otherwise? ... You may also consider how much time each day you spend on each activity such as watching television, eating, sleeping. Make a graph. Then, brainstorm how you can manage to fit in alternative activities to maintain a healthy lifestyle."
OK, for the record: During vacation I tend to eat more. And watch more TV. And get more sleep. I don't need to encourage a second-grader to quantify my somewhat hypersedentary holiday existence.
That simply wouldn't add up.
•••
The new year will mean new reports about familiar subjects for members of the Lawrence school board.
District administrators are preparing to update elected officials about a variety of topics and issues and efforts in the coming weeks. Two topics expected to come up during the next month or so:
• Performance of students in full-day kindergarten.
• Processes and procedures for capital planning.
Taking a broad look at kids who are in or have been in full-day kindergarten gives district leaders something to consider when deciding whether to expand such programming into elementary schools that now offer only half half-day kindergarten: Deerfield, Langston Hughes, Quail Run and Sunset Hill.
Administrators also are poised to discuss methods for determining how much money to spend, and where, on capital improvements, One of the board's goals for the 2011-12 school year is to develop a long-range capital improvement plan that includes planned investments in buildings, technology, furnishings and equipment.
The next board meeting is set for 7 p.m. Jan. 9 at district headquarters, 110 McDonald Drive.
Copyright 2018 The Lawrence Journal-World. All rights reserved. This material may not be published, broadcast, rewritten or redistributed. We strive to uphold our values for every story published.