A Douglas County judge Tuesday sentenced Major C. Edwards Jr. to spend about 10 more years in prison for his role in the 2006 shooting death of Lawrence hip-hop artist Anthony "Clacc" Vital.
"I will be sentenced to prison," Edwards, 32, of Lawrence, said in a short written statement he read aloud. "I hope and pray that Clacc's family will be able to have peace."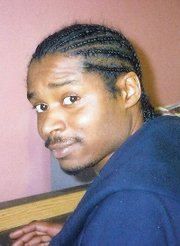 Chief District Judge Robert Fairchild followed the 2010 plea agreement in the case that called for Edwards to serve 14 years total in exchange for a guilty plea to voluntary manslaughter. But he has already spent more than three years and six months in jail awaiting resolution of the case. Chief assistant district attorney David Melton said Edwards either shot Vital or led co-defendant Durrell Jones to his friend Vital that night.
"Anthony Vital found out what it is to be Major Edwards' friend, and he is now dead," Melton said. "He is dead directly due to the actions of the defendant in this case."
A jury in March was not able to reach a verdict in Jones' first-degree murder trial, and he is now free after prosecutors dropped charges against him because they said Edwards was not a credible witness.
Defense attorney Branden Bell on Tuesday had asked for an even lesser sentence saying it was unfair to consider Edwards' two felony convictions as a juvenile as part of his criminal history. But Fairchild ruled to enforce the sentence under the plea agreement that would have Edwards serve a 14-year sentence instead of 18. Bell said after the hearing Edwards was grateful for that.
"Major wasn't guilty of everything the state accused him of, and he was happy to receive a sentence that reflected that he isn't a murderer," Bell said.
The sentence likely brings an end to a legal saga that's stretched over more than five years.
A rural landowner found the body of Vital, 28, on Oct. 15, 2006, in a driveway west of Lawrence, starting a lengthy investigation by Douglas County Sheriff's investigators.
Edwards testified in the March jury trial that Jones shot and killed Vital to collect on a drug debt for PCP, and Edwards expressed remorse for leading Jones to Vital that night.
Officers had arrested Edwards in Mississippi days after Vital was shot, but Jones did not publicly come into the picture until prosecutors filed charges against both men in 2008.
Jurors were not able to reach a unanimous verdict against Jones, and Douglas County prosecutors in August dropped their case against him. After the mistrial, Edwards unsuccessfully attempted to withdraw his guilty plea. Jones' defense attorney, John Kerns, had also criticized Edwards' credibility at the trial.
Prosecutors then formally sought to nullify the plea agreement because they alleged Edwards was not completely truthful in his testimony against Jones. In an October hearing they even put a jail mate, Joe Hunter, on the stand because they said Hunter had alleged Edwards told him he actually shot Vital.
However, Hunter refused to testify at the hearing, and Fairchild held up the plea agreement.
Melton said Vital's family did not attend the hearing but Fairchild read letters they wrote to him.
After the hearing, Edwards' mother, Fannie Vineyard of Lawrence, said she had urged Edwards to take the plea in 2010 because she told her son that Vital's family deserved to know what happened to him. She said she believed Edwards was telling the truth when he testified at the trial.
Jones was released from federal prison Nov. 1 after serving time on federal drug charges, according to the Federal Bureau of Prisons.
"It's just like rubbing dirt in your face," Vineyard said. "He got away with it. That's how I feel. I just feel like the state didn't prove their case, and Major was the fall guy."
Edwards could be eligible to receive another 15 percent off his sentence for good behavior in prison. After he gets out of prison, Edwards must register as a violent offender.
"He either pulled the trigger or helped get Anthony Vital into a position where that trigger could be pulled by Durrell Jones," Melton said. "But for Mr. Edwards' action, Mr. Vital would be alive today."
Copyright 2018 The Lawrence Journal-World. All rights reserved. This material may not be published, broadcast, rewritten or redistributed. We strive to uphold our values for every story published.