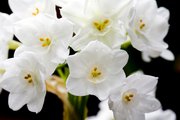 In a month or so, my office will be home to the glorious white and yellow blossoms of paperwhites. The paperwhite narcissus, a type of daffodil, is the easiest spring-flowering bulb to force into bloom in a home or office.
If you have tried growing paperwhites before and they have flopped, I have a sure-fire trick for you. Give the sprouted bulbs a little hard liquor. The alcohol stunts plant growth just enough to keep the plants from getting top-heavy.
The idea of giving plants alcohol to keep them from "flopping" might seem counter-intuitive, but the method actually works. Cornell University conducted the research in 2005 after a student hypothesized about the effect of gin on paperwhites. Previously, researchers recommended starting and keeping the bulbs in a cold room until shoots were one to two inches tall, then moving them to a warmer location. The cold treatment helped keep the bulbs from putting on too much growth early on, but the method was somewhat unreliable.
To start paperwhites, place the bulbs in stone, gravel, marbles, beads or other coarse materials in a shallow container. Potting soil can also be used, but beads and other materials add an artistic flair and ensure better alcohol uptake. Leave the top one-half to one-third of the bulb exposed.
After placing the paperwhite bulbs and stabilizing materials in the container, add water to just reach the bottom of the bulbs. Check water regularly and replenish as necessary to maintain this level. Avoid a higher water level, as too much water can lead to decay of the bulbs.

When green shoots extend one to two inches out the top of the bulb and roots are growing from the bottom, the time has come for paperwhite happy hour. Any whiskey, vodka, gin, etc. will work. You just want a final solution that is four to six percent alcohol. Avoid beer, wine and hard cider because they contain sugars detrimental to plant growth.
Here is the math: If your hard liquor of choice is 40 percent alcohol, add seven parts water to one part alcohol to get a five percent solution. A shot glass is a perfectly acceptable measurement tool in this case. Divide accordingly, if the liquor contains more or less alcohol.
Before adding the alcohol solution to the bulb container, pour off any remaining water. Fill the container with the solution to the same level as before, just at the base of the bulbs. Maintain the level with the alcohol solution just as with the water in the earlier stages of bulb growth.
Cornell University says, "The result will be a plant that is one-third shorter, but with flowers just as large, fragrant, and long-lasting as usual."
As in many cases with alcohol, more is not always better, so take care to stay around the recommended four to six percent of alcohol. Solutions containing ten percent alcohol or above cause growth problems in paperwhites, and twenty-five percent alcohol solutions are toxic to the flowers.
Rubbing alcohol is an acceptable replacement for hard liquor. Dilute accordingly: If the rubbing alcohol is seventy percent alcohol, add eleven parts water to one part rubbing alcohol.
Cornell University also suggests this might be a fun experiment to conduct with the kiddos. Grow two pots of paperwhites, using straight water for one container and the alcohol solution in the other.
Other spring-flowering bulbs, including snowdrops, crocuses, daffodils and tulips, can also be forced into bloom. All spring-flowering bulbs other than paperwhites require a cold treatment where they are held at thirty-five to forty-eight degrees Fahrenheit for twelve to sixteen weeks. Potting soil works best for forcing bulbs other than paperwhites, and the soil should be kept moist but not wet during the chilling period. Plant bulbs below the soil surface.
Move pots to a warmer location, ideally about 50 degrees Fahrenheit, when shoots are two to three inches above the soil surface. Move pots again when buds have formed to a sunny window, but bring them out of direct sunlight when the flowers open. When held at 65 to 68 degrees, hyacinth flowers may last up to two full weeks. Tulips, crocuses, daffodils, and other bulbs will also last longest at this temperature range.
Alcohol should not be necessary to force spring-flowering bulbs other than paperwhites into bloom.
Copyright 2017 The Lawrence Journal-World. All rights reserved. This material may not be published, broadcast, rewritten or redistributed. We strive to uphold our values for every story published.