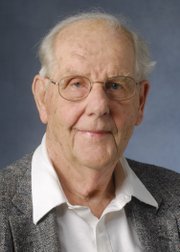 An institution at Kansas Public Radio is coming to an end, according to a statement from Kansas University.
The program "Opera Is My Hobby" will air its last broadcast from 7 p.m. to 8 p.m. Friday, Dec. 30, on KPR. The show, which has aired weekly since Sept. 19, 1952, has been airing encore broadcasts since its host, Jim Seaver, died in March at age 92.
Seaver, who also taught Western Civilization and ancient history at KU, hosted the show since its inception.
At the time of Seaver's death, it was the second-longest public radio program with its original host in the country.
The last show will feature Strauss' "Die Fledermaus," which is typically performed around the New Year holiday.
Copyright 2018 The Lawrence Journal-World. All rights reserved. This material may not be published, broadcast, rewritten or redistributed. We strive to uphold our values for every story published.