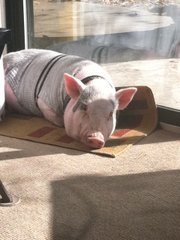 Pets allowed under Lawrence's animal code
• Domesticated dogs
• Domesticated cats
• Domesticated rodents
• Domesticated European ferrets
• Rabbits, a limit of three in a residential area
• Birds, as long as they are not protected by state or federal law
• Nonvenomous snakes less than 8 feet long
• Nonvenomous lizards
• Turtles
• Amphibians
• Fish
• Invertebrates
• Domesticated hedgehogs
Having a pig as a best friend is great, Lawrence resident Ehren Penix can attest. Now, he just wants it to be legal.
Penix is lobbying Lawrence city commissioners to change the city's animal code to allow for potbellied pigs as pets, including his nearly 1-year old 70-pound friend, Starky.
"They're really gentle and really good companions," Penix said of potbellied pigs in general. "They tend to bond with one certain person or animal in their lives. If you become that person to the pig, you will become his best friend forever. That is certainly what Starky has become to me."
Whether Lawrence City Hall will bond with potbellied pigs, however, is an open question. City Hall staff members have been rooting around on the issue, but haven't yet offered a recommendation on whether the city code should be changed to allow the animals.
Cynthia Wagner, assistant city manager, said if the city does decide to allow potbellied pigs, ownership should come with several regulations. Her suggestions include:
• Ownership only for purposes as a pet, not as a food source;
• Owner must be able to prove the animal is a purebred potbellied pig, rather than a traditional swine breed that can grow to several hundred pounds.
• Animals must weigh less than a certain weight, perhaps 80 pounds. Penix said some potbellied pigs can grow to 150 pounds, though many owners like to have them at 100 pounds or less. Starky, he said, is on a diet.
• Animals must have undergone a blood test to show the animal is free from pseudorabies, a form of pig herpes that can be dangerous to dogs and cats.
• Each animal must be registered and licensed with the city, perhaps including an implanted microchip that would make it easy to identify the owner, if a pig is found roaming free in the city.
Other issues, like odor, may be tougher to legislate, Wagner said.
"I've heard opinions on both sides of the odor issue," Wagner said. "But in talking with the state veterinarian, I'm told that if it looks like a pig and walks like a pig, it is going to smell like a pig."
Penix, a Kansas University law student, said he thinks the city can come up with a reasonable program that will allow potbellied pig ownership in the city limits.
He said the smell issue often is misunderstood because most people's experience with pigs comes from a hog farm. Penix said he's not asking for anything close to that scale to be allowed in the city, and he said as long as owners clean up after the pigs there shouldn't be a problem.
"His poop smells, of course, but as long as you're responsible about cleaning up, it's fine," Penix said. "He's actually very clean. He's even learned to wipe his hoofs before he comes in the house."
City staff members found a mixed bag when it comes to whether potbellied pigs are allowed in other communities. Wagner said Lenexa, Olathe, Overland Park and Shawnee allow the keeping of one potbellied pig per household. Kansas City, Mo., also allows potbellied pigs but requires the animal be kept at least 200 feet away from any neighboring home. Manhattan, Salina and Topeka do not allow potbellied pigs.
City commissioners haven't yet set a date to consider the issue, but Wagner said staff members hope to in January. Wagner said commissioners may need additional information about some issues such as what type of fencing is adequate to secure a pig in a yard, and also how the city would deal with pigs that are either turned loose or escape from their pens.
"There is some concern that this could be like the little chickens or ducks at Christmas time," Wagner said. "They're cute while they're little, but if they get too big are we going to have a problem with a feral pig?"
Penix said he thinks most of the concerns city leaders may have are really more about irresponsible pet owners, which can occur with any type of animal. He said the city shouldn't stop responsible pet owners from owning a potbellied pig because traditional pets aren't always an option for everyone. Penix said he got Starky because he is allergic to dogs, but did so without realizing the pigs weren't legal in the city. He's been allowed to keep the animal while the city considers whether to change the law. And yes, you may see Starky and Penix out for a walk someday.
"I have a Jayhawk leash and harness for him," Penix said. "You wouldn't believe how many people stop us and say they used to own a pig or knew somebody who did. People love giving him treats, and trust me, he loves getting them."
Copyright 2018 The Lawrence Journal-World. All rights reserved. This material may not be published, broadcast, rewritten or redistributed. We strive to uphold our values for every story published.