On the street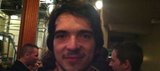 'It Came Upon a Midnight Clear.'
When Becky Wisdom looked out her front door, she saw dozens of smiling people clutching sheet music.
"I wondered, 'How did this all happen?'" Wisdom later said.
Wisdom turned 69 on Friday and has been fighting liver cancer. Her friends were there as a surprise.
The crowd burst into the "Happy Birthday" song and followed it up with Christmas classics such as "Silent Night" and "Jingle Bell Rock." After a few minutes, they were invited in from the cold, but they continued to sing. Her son and grandchildren stood next to her, catching Wisdom's infectious smile.
The singers included children and adults, not all of whom knew Wisdom personally. Some just wanted to do a little good.
Brandy Hurrelbrink organized the singing, corralling people via Facebook from Wisdom's quilting club and three area churches: Clinton Parkway Assembly of God Church, First Christian Church and Family Church of Lawrence.
"We had to be very, very sneaky," Hurrelbrink said.
It was hard to keep traces of the plans from online media Wisdom might see.
Hurrelbrink was partially inspired by a recent film, "November Christmas," in which a child with cancer celebrated Christmas early with the help of the entire community.
Wisdom's son, Scott Hoy, was in on the surprise and brought over three of Wisdom's grandchildren. Wisdom actually discouraged her family members from coming over on her birthday because there would be two days of family gatherings over Christmas weekend.
"She probably was wondering why we came over even though she said not to," Hoy said.
Wisdom thought the caroling was something special and was determined to have more special birthdays in the future.
"Let me tell you, I expect to see more birthdays," Wisdom said. "I do believe God is going to heal me."
Did she hope for more caroling next year?
"I think you can only do this once," Wisdom said, laughing. "It is a great birthday present. It's very, very nice."
Copyright 2018 The Lawrence Journal-World. All rights reserved. This material may not be published, broadcast, rewritten or redistributed. We strive to uphold our values for every story published.