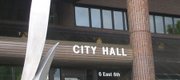 Subscribe to the email edition of Town Talk and we'll deliver you the latest city news and notes every weekday at noon.
News and notes from around town:
• Just in this morning, a nice win for the city's economic development efforts. API Foils has announced it will relocate its corporate headquarters from New Jersey to Lawrence. The move will create 17 new jobs in Lawrence, and is expected to be completed by June.
API currently has a manufacturing plant in the East Hills Business Park that produces hot foil stamping for products such as greeting cards and various packages.
We'll bring you more on this shortly.
• Ah, they're just memories now. Like when I would walk up to the buffet and stack so many pieces of thin-and-crispy Meat Lovers pizza on my plate that I would proudly proclaim "Look at me. I have the Leaning Tower of Pizza." Or when I would decide to get healthy and have salad for lunch. At least three or four pieces of nice iceberg lettuce, croutons, black olives, imitation bacon bits, more croutons and four or five ladles of ranch dressing. All I can say is, thank you Pizza Hut on Massachusetts Street for providing me a healthy alternative.
But, no more. The Pizza Hut at 934 Mass. has closed. An alert tipster emailed me yesterday that he saw the buffet being wheeled out of the restaurant. I had held out hope that it was just someone who was taking the all-you-can eat concept one step too far, but then I went and checked it out with my own eyes. The place is largely empty except for the artful red and green lamp shades that I assume someone will remove and preserve in a museum.
My understanding is that the Pizza Hut on 23rd Street will take over the delivery routes of the downtown store. But fear not, I'll always remember the downtown Pizza Hut. Each night, before I go to bed, I will think of my time there — as I take my cholesterol medicine.
• Of course there are several other places you can get pizza in Downtown Lawrence. And not that I'm an expert on buffets or anything, but I'm certain there is at least one other pizza luncheon buffet in downtown. Pyramid Pizza, 1029 Mass., has begun offering a luncheon buffet in the last year or so. Maybe that had something to do with Pizza Hut's decision. Also, if you are wondering what the yellow development sign in the window of the restaurant is about, I believe it is a sign that the restaurant is working through the process to add sidewalk dining to the location. Finally, one other change that I coincidentally noticed today. The 1029 Mass. building that houses Pyramid Pizza has sold. According to this week's Douglas County land transfers, a group led by Lawrence businessman Doug Compton has sold the building to S&A; Properties LLC, a group that lists Lawrence businessman Asif Jiwani as its resident agent. Normally, I don't report on such sales, but one of my goals for 2012 is to keep a closer eye on significant commercial real estate transactions, if you all are interested. In fact, click here if you want to see all the transactions recorded by the Douglas County Register of Deeds for the week of Dec. 13. Let me know if this is a feature you want to see continued.
Copyright 2018 The Lawrence Journal-World. All rights reserved. This material may not be published, broadcast, rewritten or redistributed. We strive to uphold our values for every story published.