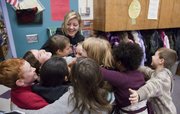 So if you're Lori Sinclair, a third-grade teacher at Woodlawn School, and your principal, your superintendent, your husband, board members, parents, a television camera and a whole bunch of other people burst into your room at 8:45 a.m., what's the first thing that goes through your mind?
"Panic," she said.
No need for that, though. It was good news. Very good news.
Sinclair was the recipient of a Dedication to Education Award, created by the sons and daughters of the Bobs, a group of residents who shared the first name Bob.
As she stood with the big check she received from the Lawrence Schools Foundation and with Superintendent Rick Doll, she was dabbing away tears.
"Are you upset?" one of her pupils asked.
"No, I'm very happy," she reassured the class.
Sinclair has taught at Woodlawn for three years after teaching in the Bonner Springs school district for three years.
The award is for a teacher or para-educator in the Lawrence district who goes the extra mile to help the kids who need it most.
Her principal, Jeanne Fridell, said Sinclair was a "rock star" who does all that extra stuff. When a student had both of his permanent front teeth broken, she worked with his mother, the school nurse, the social worker and others to ensure the family had the resources to take care of him. And she's got the rest of it, too.
"She has teaching down as an art," Fridell said.
Her students congratulated her with a big group hug before resuming their regularly scheduled lesson on the rainforest.
Sinclair credited her co-workers and staff for their support, and said she was "totally and utterly shocked" to receive the award.
And right around the holidays isn't a bad time to have an extra $5,000 around, either.
"I have a few uses for it, that's for sure," she said.
Copyright 2018 The Lawrence Journal-World. All rights reserved. This material may not be published, broadcast, rewritten or redistributed. We strive to uphold our values for every story published.