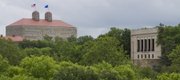 Subscribe to the email edition of Heard on the Hill and we'll deliver you the latest KU news and notes every weekday at noon.
Your daily dose of news, notes and links from around Kansas University.
• I spotted this neat virtual exhibit from the KU Libraries on James Naismith, celebrating the 150th birthday of the inventor of the game of basketball.
You can poke around and see pamphlets, photos and university records taken from the KU archives.
I enjoyed this photo of Naismith instructing the women's fencing team. (Do we still have a women's fencing team?)
The exhibit also features a timeline of Naismith's life. And, apparently, the libraries are looking to create more of these kinds of online exhibits in the future.
• Here's some good news for college graduates that I first spotted on the KU Career Center's Twitter feed.
The National Association of Colleges and Employers pointed out an improvement in the unemployment rate for bachelor's degree holders ages 20 to 24 (if you got your bachelor's degree by age 20, by the way, there's no way you shouldn't have a job).
But anyway, the unemployment rate was 8.3 percent in September 2011. It fell to 6.2 percent in November 2011.
That's using figures released by the U.S. Bureau of Labor Statistics.
The rate has been falling sharply since a high of 13.1 percent in July 2011 (when many new grads were looking for work).
Still, I imagine that's no consolation for those still looking for a good job in vain.
• A new policy at KU will allow professors to adjust the amount of time they spend on different parts of their jobs.
Typically, tenured and tenure-track professors devote 40 percent of their effort to teaching, 40 percent to research and 20 percent to "service," which can include serving on university committees, leadership positions or it can be done in other ways.
The new policy is for tenured faculty members only, and any changes in that percentage allotment must meet the needs of the unit in which the faculty member is serving. And in no cases can any one element drop below 10 percent.
I remember having a discussion with at least one KU bigwig about this some time ago. The thought was that professors who were strong in one area and not as strong in others could help out everyone in the department by, say, shouldering more of the teaching load than normal.
It'll be interesting to see how widespread this practice becomes, and how departments and schools intend for it to be used. If anyone hears of anything, please let me know.
• Even though winter break is here, Heard on the Hill is steamrolling ahead. Shovel some coal in the firebox by sending me a tip at ahyland@ljworld.com.
Copyright 2018 The Lawrence Journal-World. All rights reserved. This material may not be published, broadcast, rewritten or redistributed. We strive to uphold our values for every story published.