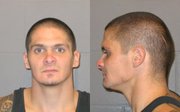 A federal judge Wednesday sentenced a 29-year-old man, who is accused of participating in a Topeka drive-by shooting, to more than 16 years in prison for distributing firearms in Topeka and Lawrence.
Ruben James Zeller, who at one time lived in Lawrence, pleaded guilty earlier this year to being a felon in possession of a firearm and admitted to distributing guns in Lawrence and Topeka in 2010.
U.S. Attorney Barry Grissom, who prosecuted the case, in recent months had used Zeller's case as an example in an effort to crack down on felons who possess guns and ammunition.
"Taking firearms out of the hands of convicted felons is one of my top priorities," Grissom said Wednesday. "We are sending a clear message: Gun crime means hard time."
Zeller has a 2005 aggravated assault conviction in Osage County that prohibited him from possessing firearms, but he admitted to distributing guns and performing a drive-by shooting in September 2010 in Topeka.
According to the proffer for Zeller's guilty plea in the federal case, Zeller told an informant on Sept. 27 he fired 18 rounds from a Remington 9 mm handgun into the residence of a man he had argued with earlier. The man's sister was also in the residence, according to Grissom's office.
About two weeks after the drive-by shooting, officers reviewed surveillance video from a Topeka Walmart store and obtained video of Zeller giving money to a confidential informant to buy him ammunition, which he was barred from possessing as a felon. Lawrence police helped investigate the case.
He later pleaded no contest in an October Douglas County case in which he is accused of threatening someone.
U.S. District Judge Kathryn Vratil sentenced Zeller to serve 200 months in prison for the federal case.
Copyright 2018 The Lawrence Journal-World. All rights reserved. This material may not be published, broadcast, rewritten or redistributed. We strive to uphold our values for every story published.