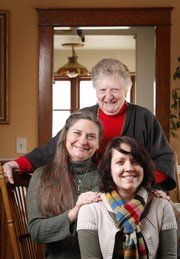 Some careers happen by accident. Passion meets timing, and a profession is born.
At least that was the case with Debra Jennings, professional hair braider. Thirty five years ago Jennings could not have guessed that she would be braiding hair for a living. Now her skilled hands are a main attraction at Renaissance festivals and ice-skating competitions across eight states.
Jennings has been twisting a medley of materials — macramé, leather, doll hair — into braids since she was a young girl.
"Living on a farm brought many opportunities to braid a variety of textures, which was great training in itself," Jennings says. "Every head of hair that is in front of you is different: sometimes like straw and sometimes like silk." 
It started with rope. Jennings began crafting macramé pieces for Renaissance festivals in Kansas and Oklahoma in the early 1980s. She still recalls attending her first Ren Fest in Kansas City in 1980: the pleated skirts, the bright colors, the metallic and chiffon fabrics, and the long, thick braids. All of it persuaded Jennings to come back.
"I loved the gypsy-like atmosphere, and back then it was just beginning,"she says.
Jennings sold her first pieces from a booth called "Ye Lady's Knot Home," a name she changed to "Braiden' Maidens" after switching to hair in the mid '90s. When Jennings first opened a hair-braiding booth at the Kansas City Ren Fest, she got a call from an ice-skating club requesting she braid the skaters' hair for a competition.
"If you can guarantee me 10 braids, I will come," Jennings said. She showed up to the event skeptical. Her booth was swarmed by ice skaters and parents alike.
"(They) had never even heard of a hair braider and were ecstatic as that meant they did not have to deal with the stress of doing their child's hair," Jennings says. "I could never have planned this."
Eventually Jennings was receiving requests from coast to coast.
"Of course there was no way that I could do that without a personal jet plane," she says. "My young clientele at the rinks said I needed a hair-ly-coptor, which would be nice."
In the beginning, Jennings cruised to Colorado and seven other states in her parents' snug RV. Now she drives her car, cramming it with gear: a survival kit consisting of sleeping bag, flashlight, mittens and warm socks, plus braiding supplies, tables, cooking utensils and clothing.
"I do have packing down to a fine art as far as my car goes," Jennings says.
Jennings sleeps at extended-stay hotels, cooks dinner in her room with a miniature skillet and tries to limit driving to 10 hours per day. Audio books and the quiet of the road soothe her.
"Of course it can get tiring and stressful, but I handle it better if I think of it as meditation," she says. "I love my career choice, but I am on the road a lot.  I miss my home and family. One time my son called me (when) I was in Colorado and asked me if I knew where his shoes were. I said, 'Really Toby, do you know where I am?' It was pretty funny."  
But in some ways, Jennings' profession has enhanced her link with family and friends. She has taught several women her craft, one them her daughter, Cody. They wear festival garb and braid hair side by side at the Kansas City Ren Fest seven weekends a year.
Copyright 2018 The Lawrence Journal-World. All rights reserved. This material may not be published, broadcast, rewritten or redistributed. We strive to uphold our values for every story published.