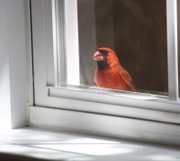 Thunk! The sound startles me and I look up from the project I am working on in time to see a robin dusting his slightly rumpled feathers before he flies off in the other direction. The bird's collision with my window, and other birds before it, happen occasionally. I am reminded to take action to prevent future collisions.
Although my friend Mr. Robin flew off this time, bird/window collisions are a serious issue. The United States Fish and Wildlife Service even goes as far as saying that plate glass is one of the greatest hazards to birds, "… with windows in homes and offices killing as many as one billion birds each year."
Preventing future window collisions is not always easy, though. I am pretty sure in this case, Mr. Robin was just taking off from a bath and a drink at the fountain near my window. His short takeoff likely saved his life. He may have seen a reflection of the landscape behind him, or looked through the pane, unable to distinguish it from open space.
Researchers and bird enthusiasts suggest that birds may also fly into windows seemingly intentionally when they see their own reflection and try to attack it. Cardinals are one of the species most likely to act this way, although the cardinals that frequent my fountain have yet to try it.
Nocturnally migrating birds may also strike lit windows at night.
The Cornell Lab of Ornithology says the best solution for preventing birds from flying into windows is to cover the outside of the window with netting or screening. The netting or screening should prevent reflection and hold the bird far enough from the window that it cannot be injured. Crop netting, also called bird netting, works well and is available in many hardware stores and garden centers. Use fine mesh netting to keep birds from getting tangled in it.

If netting will not work for the window in question, the next best option is one-way transparent film. When mounted properly on the outside of the glass, this film makes the window appears opaque on the outside but leaves the view unaltered from the inside.
Vertical tape strips, soap and markings with permanent paint are a common although less attractive suggestion. The idea is to reduce the amount of reflection on the window. I have also heard that simply leaving the window dirty can help, but it obviously is not working in my case.
Shutters, external sun shades and awnings may help by blocking reflection.
The most common recommendation I hear and questions I get are regarding the use of decals, hawk-shaped stickers, plastic owls, pinwheels, and other shiny, moving objects. Although all of these things may work in the right situation, they are less effective in research trials than the previously mentioned suggestions. They are more effective when placed less than eight inches apart than when only one or two stickers are present. I have heard one report of a mobile comprised of small mirrors that is effectively deterring birds from a window where previous methods were ineffective.
Of course, you can always move the feeder, birdbath, or fountain closer to or farther from the window. Or plant some trees to shade the reflection for future generations. Or just put up the netting. I am headed to the hardware store now.
Copyright 2018 The Lawrence Journal-World. All rights reserved. This material may not be published, broadcast, rewritten or redistributed. We strive to uphold our values for every story published.