Photo Gallery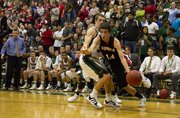 Free State boys basketball vs. Lawrence High
It wouldn't be the city showdown if it didn't come down to the wire.
Lawrence High's boys basketball team outlasted arch-rival Free State, 75-68 in overtime, Friday night in front of a packed house at FSHS, successfully bringing a four-game losing streak in the rivalry series to a halt.
LHS (4-1) did it by protecting the ball and burying free throws in the extra four-minute period. After Firebirds senior guard Brett Frantz forced overtime with an offensive rebound put-back with no time remaining in the fourth quarter, Lawrence outscored FSHS, 11-4, in overtime by hitting nine of 14 from the charity stripe.
Lawrence senior KJ Pritchard, who missed two free throws with 12 seconds to go in regulation, made the most of his time at the foul line in OT, going 5-for-6.
On a night that Pritchard struggled from the floor, hitting three of 15 shots, fellow LHS senior Anthony Buffalomeat said his teammate more than made up for it by taking on primary ball-handling responsibilities in overtime and bouncing back with clutch free throws.
"We all have confidence in him," Buffalomeat said of Pritchard, who scored a team-high 18 points. "He'll get a little low at times, but he's always confident."
Lawrence's only field goal in OT came on its first possession, when junior guard Jake Mosiman gave a shoulder fake on the baseline, then turned to bury a jumper. Lions coach Mike Lewis said after his team had given FSHS (2-3) momentum by allowing Frantz (24 points) to send the game to overtime, Mosiman's cold-hearted jumper sent a message that Lawrence needed to finish off the Firebirds.
"It immediately gives everybody else a little adrenaline rush, a little confidence, and we fed off of it," Lewis said.
The Firebirds felt the impact of Mosiman's jumper. Coach Chuck Law, whose team had been outscored 9-2 in overtime before Frantz drove in for the Firebirds' only basket of the period with 37 seconds left, said LHS took control.
"Overtimes are a strange animal," Law said. "Frequently whoever gets out of the gate first, gets a little momentum."
The momentum seemed to be heavily on the side of the Firebirds late in the fourth quarter. Down four with a minute left, senior guard Cameron Dabney (23 points) drove in for a hoop to cut Lawrence's lead to two with 57 seconds left.
After Pritchard hit two freebies for LHS with 38 seconds left, the Firebirds' Frantz scored on a drive 23 seconds later, after an offensive rebound by sophomore Reshawn Caro.
Following Pritchard's missed free throws at the 12-second mark, Frantz tied the game at 64 after grabbing a missed three-pointer by teammate Kyle McFarland.
All of that came after the Lions responded with grit to the disqualification of senior guard Logan Henrichs with 1:55 left in the fourth quarter. Henrichs had scored 13 points before picking up his fifth foul.
After FSHS sophomore Blake Winslow tied the game at 58 with a free throw, Lawrence sophomore center Bryce Montes de Oca (10 points) scored on a post-up to give the Lions a 60-58 lead. Seconds later, Pritchard picked off a Firebirds pass and took it the other way for a two-handed jam.
Upon seeing his team come back in OT and get its first win against Free State since 2009, Lewis couldn't have been more pleased with his players' resolve under pressure.
"In this situation, with the guys getting tired, I loved the fact that we hung in there," he said.
Law said the loss left the Firebirds hanging their heads as they entered their locker room, but he told them that wasn't necessary after another intense game with LHS. Law said the rivalry game never disappoints in the excitement category.
"It's the same every time," Law said. "Our kids played great. You couldn't ask for anything more."
The coach was especially proud of his team, because Free State lost starting senior forward Gabe Patterson — at 6-foot-3, its tallest player — during warmups due to a strained hip flexor. McFarland, a junior, started in his place and scored eight points.
Despite Free State coming in as an underdog and playing without its top big man, the game lived up to its usual hype, which didn't surprise Lewis.
"That's classic Lawrence High-Free State," the LHS coach said. "That's just the way it goes."
Copyright 2018 The Lawrence Journal-World. All rights reserved. This material may not be published, broadcast, rewritten or redistributed. We strive to uphold our values for every story published.