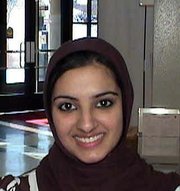 Overland Park Police searched Kansas University's Edwards Campus Thursday afternoon after a woman's family reported her missing. Aisha Khan, a 19-year-old Johnson County Community College student, was last seen in the area of Edwards Campus, 12600 Quivira Road in Overland Park.
Khan is described as 5-foot-2, 120 pounds with dark brown hair, brown eyes, and glasses, according to an Edwards Campus alert. As of Friday night, she was still missing. Anyone with information about this incident is asked to contact the TIPS HOTLINE at 816-474-TIPS.
A Facebook page, Help Find Aisha Khan, has been created to help the search.
Copyright 2018 The Lawrence Journal-World. All rights reserved. This material may not be published, broadcast, rewritten or redistributed. We strive to uphold our values for every story published.