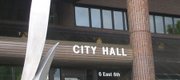 Subscribe to the email edition of Town Talk and we'll deliver you the latest city news and notes every weekday at noon.
News and notes from around town:
• The race to 100 is still on. Lawrence building permit numbers through November are now out, and the city still has not yet cracked the century mark when it comes to new single-family home construction.
As we reported a few weeks ago, the city has building permit records back to 1956, and never in that time period has the city failed to build at least 100 new single-family homes.
If local builders are going to keep that streak alive, they'll need to start 11 homes in December. For those of you getting out your abacus, I'll save you the time. That means 89 new single-family homes have pulled building permits through November. That's down 35 percent from the 137 homes that had pulled permits through November 2010.
Other facts and figures from the most recent report include:
The city's previous low when it comes to new single-family home construction was 102 units when in 2008. That was followed up by 110 units in 2009. So, if you're keeping track, three of the worst years ever for single family home construction in Lawrence have occurred since 2008. Previously, the early 1980s — when mortgage rates were well above 10 percent — was thought to be the toughest time period for Lawrence builders. But I checked the numbers and in 1980 builders pulled 125 permits, 172 permits in 1981, and 119 in 1982. Can you imagine telling builders in the early 1980s that in 30 years interest rates would in the 5 percent range and even fewer new homes would be under construction. They likely would have told you that your feathered hair was affecting your brain.
Duplex construction in Lawrence — once a hot trend — is off even more than single-family home construction. The city has issued four permits for new duplexes through November. That's down from 10 for the same time period a year ago.
Apartment construction has been an area of growth for the building industry. Builders have started 355 new apartments in the city. That's up 61 percent from the 220 units started during the same period a year ago.
The value of new privately constructed projects in the city — a key number in measuring whether the city's tax base is growing — also is up for the year. The city has issued permits for projects totaling $100.6 million. That's up from $80.7 million through November 2010. Two projects have accounted for $40 million of the total — a $28.5 million apartment project near Sixth and Stoneridge, and $11.3 million in construction for the Bowersock power plant on the north bank of the Kansas River.
• November's building permit report revealed that a carefully watched East Lawrence project indeed is going to become a reality. City officials issued a $4.4 million building permit for work to begin on renovating the old multi-story Poehler grocery warehouse building at 619 E. Eight St. No, they're not going to sell groceries out of it anymore. There just doesn't seem to be much demand for a multi-story warehouse building these days. Instead, as we have previously reported the four story building is being converted into about 40 apartment units, with most of them receiving state financial assistance that will require them to be rented at below market rates.
There have been several starts and stops on attempts to renovate this old industrial portion of East Lawrence, but Kansas City developer Tony Krsnich seems to have found the formula. Now it will be interesting to see if there will be a bit of a rush on new development in the neighborhood. Already we have reported that the four buildings at Ninth and Pennsylvania — long ago they were Standard Oil's office in Lawrence — are the subject of redevelopment plans. Plans call for the buildings to house offices, and perhaps be set up to host some receptions. I'm still looking for more details about that project which is working its way through City Hall. I'll let you know when I find out more.
• Something else that I'm keeping my eyes on (besides the growing number of thank you notes my wife seems to be getting from credit card companies these days) is the idea of building a new West Lawrence recreation center. In particular, I'm hearing that a third site for a center may get a look. I don't have all the details yet, but there's talk that some private property near Langston Hughes elementary school may enter the mix. That is in addition to city-owned property near the Wal-Mart at Sixth and Wakarusa, and a larger tract of land that a development group led by Steve and Duane Schwada are offering to donate near the northwest corner of Sixth Street and the South Lawrence Trafficway. A recreation center can be quite a magnet for development of surrounding property, so it will be interesting to see whether others pitch additional sites to the city. The city currently is in the process of selecting an architect for the project — which still hasn't gotten the final green light from city commissioners yet. The architect will develop some more specific cost estimates, and will evaluate potential sites. That work is expected to be completed by the summer.
• I've also been checking in with officials with the YMCA of Greater Kansas City. As we previously reported, city parks and recreation leaders and members of the Y were to have some discussions about whether there is the potential for a partnership between the city and the YMCA on a new center. The YMCA is definitely a fan of those partnerships. In this area they have a couple with government-owned centers in Platte County, Mo., where the government owns the building but the YMCA assumes the cost of operating the facility, and also keeps the revenue from any classes or admission fees. Even closer to home, the YMCA is working to create another such partnership in Ottawa. Various folks in Ottawa are seeking to raise about $8 million to build a new recreation center on the campus of Ottawa University. The facility would be open to all, but the YMCA would run the operations. Here in Lawrence, I don't think the idea of such a partnership is completely dead, but I think Parks and Recreation leaders will have several questions about what the partnership would add to the community. Lawrence Parks and Recreation has a well-established set of classes and recreation programs that are more extensive than in many other communities. Whether the YMCA can offer something that is new, or whether the YMCA can make a future recreation center project less financially risky for the city are probably the big questions that will be posed.
Copyright 2018 The Lawrence Journal-World. All rights reserved. This material may not be published, broadcast, rewritten or redistributed. We strive to uphold our values for every story published.