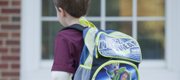 Subscribe to the email edition of First Bell and we'll deliver you the latest local education news and notes every weekday at noon.
Came across a new excuse for not turning in homework:
I left my homework outside someone else's home — an auction house, in fact.
Huh?
Read on, or click on this story that first appeared in the Times Herald-Record in New York state:
"Homework leads to arrest of 12-year-old in burglary
"LIBERTY — Officers used math homework to track down a 12-year-old charged with felony burglary in a break-in at a village auction house Saturday night, Liberty police said.
"The owner said he arrived Sunday morning and found a window removed and jewelry, cellphones, video games and more missing.
"Homework with the suspect's name on it was found in the woods behind the auction house, police said. The youth will appear in Sullivan County Family Court."
They say teachers have heard them all, when it comes to excuses for not turning in homework. I'm wondering if anyone out there has some that can top this one...
•••
Gov. Sam Brownback's plan for financing public schools is out, and now it's time to see where it goes and what it might mean for folks here in the Lawrence school district.
Rick Doll, district superintendent, acknowledges that the plan is "not as bad" as he'd expected
"The worst thing is that the funding won't increase," he said. "And we've had funding decreases for the last three, four years."
The plan does call for giving districts more flexibility in seeking increased tax revenues at the local level — going to voters and asking for approval to collect more money from property owners in the district.
Doll said he wasn't clear on how that process would work. Specifically, whether a proposed tax increase would need to be approved by voters during an election or whether the Lawrence school could approve a tax increase that then would be subject to a potential protest vote by the public.
Either way, it's an issue certain to gain plenty of attention in the coming days, weeks and months in Lawrence and elsewhere in Kansas.
Also clear: The plan wouldn't take effect until and unless approved by the Kansas Legislature, and then not start until the 2013-14 school year.
During the coming months, district officials and others will be keeping an eye out to see what happens in the near term while remaining mindful of the long term.
"At best," Doll said, "we're going to have stable funding for the next two years."
Copyright 2018 The Lawrence Journal-World. All rights reserved. This material may not be published, broadcast, rewritten or redistributed. We strive to uphold our values for every story published.