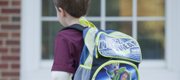 Subscribe to the email edition of First Bell and we'll deliver you the latest local education news and notes every weekday at noon.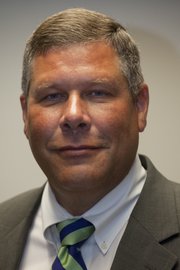 An interesting dynamic may be smoldering inside a school-consolidation scenario proposed this week by representatives from New York School.
Follow me here...
Among potential options suggested for elementary schools in eastern Lawrence is a plan known as "Haskell Square," which would combine all students from Cordley and Kennedy schools — along some students from New York — in a new building that would be located at the southwest corner of 19th Street and Haskell Avenue.
The new school, as described by the New York representatives in a report to the Central and East Lawrence Elementary School Consolidation Working Group, would be walkable for many students and make a welcome and "fairly drastic change to the cityscape" at the corner.
"We feel that improvement of the more industrial nature of the corner lot with a new state of the art school facility will greatly improve the entire East Lawrence area, property values and housing stock," the representatives say in their written document.
Left unaddressed is how they would propose acquiring the property from its owner: the city of Lawrence, which uses the property for three things:
• A maintenance shop for Lawrence Parks and Recreation.
• A park, informally known as Firefighters Park.
• Lawrence-Douglas County Fire Medical's training center, located in a former station and adjacent to a tower used by departments for fire and rescue training.
The representatives are members of the larger working group, an advisory group that includes representatives from six elementary schools — Cordley, Hillcrest, Kennedy, New York, Pinckney and Sunset Hill — identified for potential consolidation by the Lawrence school board. The group also includes representatives from Woodlawn School, which is not a consolidation candidate.
The working group is charged with recommending a plan that would allow the district to reduce its roster of elementary schools from 14 to either 11 or 12 within the next two years. The recommendations are due to the school board by the end of January.
And who is president of the school board? That would be Mark Bradford, chief of Lawrence-Douglas County Fire Medical, the department that uses the site for its own education: training for emergency personnel from Lawrence, area townships and nearby communities such as Lenexa and Olathe; and through courses offered by Kansas University's Fire and Rescue Training Institute.
Talk about a dynamic.
Following Monday's regular board meeting, I managed to talk with Bradford about the scenario, one of three included in the New York representatives' document awaiting review next week by the larger working group.
While out Bradford hadn't read the document yet, he said he would be curious if there would be enough land at the corner to accommodate a school. (New York representatives say the site would offer about 8 acres, enough to handle a new, one-level school that would meet conceptual guidelines endorsed earlier this year by the school board.)
Some background: Bradford, as board president, previously has encouraged members of the working group to be creative.
"The entire board is open-minded, about the whole concept of the consolidation of buildings, to anything that might come up," he said a couple of weeks ago after other representatives had suggested potential consolidation scenarios. "There may be some way-out, bizarre types of things that could not be put together, perhaps, but the board is open to a multitude of (ideas)."
After receiving recommendations, Bradford said, board members will be responsible for reviewing concepts and determining "what could be done in reality," taking into account such issues as financing, land uses and zoning.
"Things at that point would have to be worked out," Bradford said a couple of weeks ago.
Fast forward back to Monday night, a few hours after the New York plan had been released: Bradford is standing in the lobby of district headquarters, listening to a verbal description of a plan that he has not yet read but certainly understands could one day affect his department's operations.
"It's not for me to say what the city would say about vacating all that land," Bradford said. "That would be up to the (City) Commission."
Bradford, as board president, doesn't intend to discuss the specific pros or cons of any options until recommendations are forwarded by the working group.
But would Bradford, wearing his figurative chief's helmet, have an opinion about a proposal that would replace his training center and a park with a new school? Could the department find somewhere else to go if it came to that?
I asked such questions, more to note potential complications than to spur a definitive answer. It was late, after all, and there's still plenty of time before the working group will be expected to settle on a plan to be forwarded to the board for consideration.
"I'd have to think about that one," Bradford said.
Members of the working group, of course, are busy thinking up plans that could include closure of two or three schools, maybe even their own. Will the board ultimately receive a scenario that would call for closing a training center overseen by the board president?
The Haskell Square concept will be up for discussion during the working group's next meeting, set for 7 p.m. Monday at district headquarters, 110 McDonald Drive. The meeting is one of four scheduled meetings left before recommendations are due.
•••
Today marks the formal release of Gov. Sam Brownback's financing plan for public schools, a statewide system of districts and state services that now account for half of the state's budget.
Brownback has been working to devise a plan that would revise the state's financing formula, a system that now sends districts $3,780 in "base state aid per pupil." The amount has been cut in each of the past four years — sometimes twice per year — so that it now stands at its lowest point since 2000.
The governor says he wants to revise the formula so that districts retain more local control. He also wants more money sent into classrooms and to head off what he considers constant legal challenges to the existing formula.
The formal word comes at 9 a.m. today, when Brownback's policy director briefs the Kansas State Board of Education in Topeka.
"We're all on pins and needles," said Rick Doll, superintendent of Lawrence public schools.
Copyright 2018 The Lawrence Journal-World. All rights reserved. This material may not be published, broadcast, rewritten or redistributed. We strive to uphold our values for every story published.