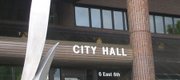 Subscribe to the email edition of Town Talk and we'll deliver you the latest city news and notes every weekday at noon.
News and notes from around town:
• Soon, all Lawrence will be missing to be a retirement destination is a Furr's cafeteria. (I still miss the days of being able to have spaghetti, mashed potatoes and tacos all in one sitting.) The number of projects related to retirees is starting to pile up. Of course there is the major retiree apartment complex near Sixth and Folks, and we recently reported there are plans for a significant retiree apartment complex at 25th and O'Connell.
Well, now one of the city's oldest retirement complexes is undergoing a major renovation. Presbyterian Manor, 1429 Kasold Drive, is undergoing nearly $500,000 worth of renovation work. Crews are renovating the third-floor apartments to convert them from studio and one-bedroom units into two-bedroom units.
Apparently, retirees still want to have some space to spread out.
"It seems like we are having more couples come to us, and everybody is just wanting more space," said Maclyn Pettengill, marketing director for the Lawrence facility. "Even if they are single, they want that second bedroom for their office and computer. That computer has changed a lot of people's lives."
Construction work already is underway. Pettengill estimated that the units will be open by this spring. Pettengill said the not-for-profit Presbyterian Manor certainly is keeping a close eye on the city's efforts to promote Lawrence as a regional retirement destination.
"I think we have a chance to be successful with that," Pettengill said. "We already have 30 to 40 percent of our customers come from out of town or out of state. They are coming to join children who are connected to the university, or they themselves are alums of the university."
• The future of industrial development near the Lawrence Municipal Airport continues to be in a wait-and-see mode, but there are new signs that its future may be smaller.
City and county leaders have been struggling for far more than a year to approve the Northeast Sector Plan, which is meant to guide future development in the area near the airport. That struggle continued at last night's Lawrence-Douglas County Planning Commission meeting. But neighbors who believe that there is too much industrial development planned near the airport won a preliminary victory.
Planning commissioners last night directed staff members to rewrite the plan so it calls for about 125 acres of industrial development rather than 300 acres that currently is called for in the draft plan. All the industrial development would be just outside the Lawrence airport boundaries, but planning commissioners also want to see more specifics about where those 125 acres of industrial development could occur.
The idea of industrial development has brought opposition from people who are concerned about losing the prime agricultural soils that exist north of the Kansas River. Residents of North Lawrence also have expressed concerns about industrial development worsening stormwater flooding.
But economic development leaders — and also several of the large farmers/landowners in the area — have been supportive of additional industrial development. Economic development leaders have said the community needs industrial sites along Interstate 70. The area near the Lecompton interchange on the Kansas Turnpike has also been seen as a location for future industrial development, but the future of that area has been clouded by lawsuits filed by neighbors.
It will be interesting to see if this idea of reducing the amount of future industrial development is a compromise that people can rally around or whether it is just another point to argue over. If history is any gauge, it will be the latter. This Northeast Sector Plan process now has been underway for more than two years.
And nobody wants to hear this, but at the end of the day, it still will just be a plan. Take it from somebody who has sat through a lot of City Commission meetings: Plans are important but they're not nearly as important as three votes on any given Tuesday.
• A quick bit of business merger news for you. Kansas Secured Title and Abstract Co., which is one of the big title companies in the Lawrence real estate market, has announced that it has purchased a pair of Leavenworth County-based title firms.
The company has finalized a deal to purchase United Title Company of Basehor and Tri-County Title and Abstract Co. of Leavenworth. Kansas Secured Title — which has its Lawrence operations at Bob Billings and Kasold — will keep both offices open and now will have seven locations in Leavenworth, Douglas, Jefferson and Wyandotte counties.
Mary Fallesen, former co-owner of United Title and Tri-County Title will continue working in the business as a vice president for Kansas Secured Title.
Copyright 2017 The Lawrence Journal-World. All rights reserved. This material may not be published, broadcast, rewritten or redistributed. We strive to uphold our values for every story published.