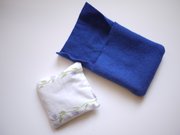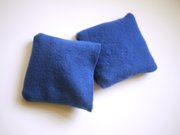 A few weeks ago, I was flipping through a catalog with lots of gift ideas. I saw a pair of hand warmers and flagged the page. I definitely wanted some for my always-cold hands.
I went back to look at it later and realized the heated element wasn't reusable, so I'd need to buy replacements. Then I thought, I could just make some.
So I did. And they're great.
This is essentially a bean bag that you microwave for about 30 seconds to 1 minute and stick in your pocket. I made an outer cover from an old, felted wool scarf to help it retain the heat for longer.
Supplies
4 5-inch squares of cotton fabric
rice or lentils
funnel (optional)
wool, felted or not; an old sweater would work
pins (optional)
scissors
ruler
sewing machine
thread
Instructions
For the inner bean bag, you can use charm squares if you have some that are already cut, but there's no need to use fancy fabric on these. Lay two squares of cotton fabric right sides together and pin. I just put two in the center to keep the squares from shifting. Using a 1/2-inch seam allowance, sew around the edges, leaving a 2-inch hole on one side for turning and filling. Repeat with the other two squares.
Clip the corners of the squares and turn right-side out through the hole. Fill about halfway with rice or lentils.
Keeping the filling away from the needle, sew a 1/8-inch seam along the side with the hole. Repeat with the other bag.
From the wool, cut two 5-inch squares and two rectangles 5 inches by 7 inches. Lay a rectangle right side up and put a square on top, right side down so that the bottom edges align. Pin in the middle. Sew along the three edges that meet, using a 1/2-inch seam allowance. Clip the two bottom corners and flip right-side out. Repeat with the other two wool pieces.
Microwave the filled bags, then stick them into the wool insulators. Tuck the wool flap inside and stick them in your pockets.
You can adjust the size for smaller hands; if you have kids, a long rectangle might work well so they can more easily wrap their fingers around it.
And in the interest of full disclosure, I used lentils, which have a faint lentil-y smell after microwaving. You could add some dried herbs, such as lavender, if you want, but it'll be in your pocket away from your nose anyway.
Copyright 2018 The Lawrence Journal-World. All rights reserved. This material may not be published, broadcast, rewritten or redistributed. We strive to uphold our values for every story published.