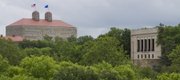 Subscribe to the email edition of Heard on the Hill and we'll deliver you the latest KU news and notes every weekday at noon.
Your daily dose of news, notes and links from around Kansas University.
• I noticed that, unlike the last time KU hired a football coach, Chancellor Bernadette Gray-Little attended — and participated in — the press conference.
When Turner Gill was hired in 2009, I remember the chancellor wasn't at that one. I remember because she was in Kansas City at KU Medical Center, and conducting a phone interview with me on another topic altogether.
And far be it from me to criticize anyone for taking time to talk to me, but I thought the timing was a little strange.
But she was there this time, and Charlie Weis seemed to mention her a few times. They'd clearly talked at least once about something of substance. I know Gray-Little took time to meet with Turner Gill before he was hired, but I don't think she played as large a role with Gill as she did this time around.
Still, I think it would be a stretch to say she's as involved as former KU Chancellor Robert Hemenway was in these sorts of things. I'm pretty sure he wouldn't have missed a press conference involving a new football or men's basketball coach.
It's something of a delicate balance, I'd imagine, for a chancellor deciding how much involvement to have in athletics. There's a definite subset of the alumni base who I'd imagine would like to see a chancellor have a firm grasp of athletic matters, and another set of the university constituency who, I imagine, would be just as good if she focused more on academics.
• The University Daily Kansan reports that more KU School of Music students will be heading to Eutin, Germany, to perform a New Year's Concert.
David Neely, KU's orchestra director, and Robert Walzel, dean of the music school, will be accompanying the students to Eutin.
Students performed earlier this year at a large music festival in Eutin in a performance that drew good reviews and the potential for an invitation back. The Kansan reports that 20 musicians and 15 opera singers could be headed back to Lawrence's sister city for the summer festival this year.
• Last week the Kansas Board of Regents chose Michael Shonrock, a former administrator at Texas Tech University, to become the next president at Emporia State University.
"We are just overwhelmed with joy," Shonrock told the Emporia Gazette after the announcement Friday morning. "And I like the way you vote in Kansas ... It's home for me."
Another presidential search in Kansas is underway, with Wichita State's Don Beggs having announced his retirement.
Soon, all but one of the chief executive jobs at the six state universities controlled by the regents will have turned over since I first started at this job in 2008.
That one holdout? It's Fort Hays State's Ed Hammond, who has been on the job since 1987.
• We don't have press conferences here at Heard on the Hill world headquarters at Seventh and New Hampshire, but if we did, I'd be sure to let all the tipsters who send me stuff at ahyland@ljworld.com be included in the fun.
Copyright 2018 The Lawrence Journal-World. All rights reserved. This material may not be published, broadcast, rewritten or redistributed. We strive to uphold our values for every story published.