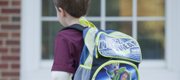 Subscribe to the email edition of First Bell and we'll deliver you the latest local education news and notes every weekday at noon.
Two fifth-graders have turned some holiday spirit into some needed supplies for the Lawrence Humane Society.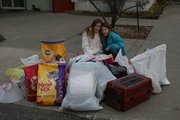 Faith Brown and Taylor Hamby recently worked with fifth-grade classes at Deerfield School to collect pet food, paper towels, cleaning supplies, sheets, leashes and other items from the neighborhood.
Their haul of 211 items — including 20 new outfits of dog clothing — ended up filling a minivan and the back and trunk of another car.
They dropped everything off at the humane society last week, adding to other, previous drop-offs following birthday parties that resulted in smaller collections.
"They decided Christmas is another good time to give," said Alyssa Brown, Faith's mother.
•••
Students at West Middle School also are turning their attention to service.
Principal Myron Melton reports that students in all three grade levels are pursuing service-learning projects in preparation for events associated with Martin Luther King Jr.'s birthday celebrations in January:
• Eighth-graders are working with the Lawrence Community Shelter, to assist the area's homeless population by securing blankets, hygiene products and other supplies and materials.
• Seventh-graders are making trips to Brandon Wood Retirement Community, where they play games, sing along with and learn from senior citizens.
• Sixth-graders are busy organizing a canned-foot drive to help local food pantries serve people who are hungry.
"It's getting them out in the community and supporting people in need," Melton said. "And what's really nice is when they take those community-service opportunities and connect it back to curriculum."
Eighth-graders, for example, read a story that includes a homeless person who is their age, Melton said. The students then research the issue, and connect the story and its issues to real-life conditions in their community.
"They've taken it to the next level," Melton said.
•••
Tonight's meeting of the Lawrence school board will give board members a chance to congratulate some students on behalf of the district.
Here are the three recognitions scheduled for the meeting, as described on the board's agenda:
• 2011 Kansas State Champion Lawrence Free State High Gymnastics Team — Danielle Hayes, head coach.
• Lawrence High College Preparatory Engineering Student Honors — Charlie Lauts, teacher.
• Lawrence Free State High Future Farmers of America Student Honors — Laura Priest, sponsor.
The meeting begins at 7 p.m. at district headquarters, 110 McDonald Drive,
Copyright 2018 The Lawrence Journal-World. All rights reserved. This material may not be published, broadcast, rewritten or redistributed. We strive to uphold our values for every story published.