A structure fire at 3404 Oxford Court caused severe damage and closed Kasold Drive in both directions on Monday evening.
No injuries were reported. Lawrence Douglas County Fire Medical Capt. Zane Morgan said two of the four residents were home at the time of the fire but were outside the home by the time crews arrived.
Investigators were still at the scene of the fire as of 9 p.m. Crews arrived at the scene at about 6 p.m.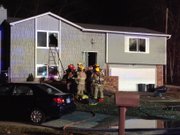 Initial dispatch reports and neighbors at the scene said flames were visible when crews broke down the home's front door. Heavy smoke was visible.
Copyright 2018 The Lawrence Journal-World. All rights reserved. This material may not be published, broadcast, rewritten or redistributed. We strive to uphold our values for every story published.