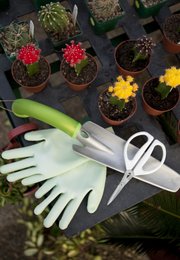 If you are looking for something special for the gardener on your list, there are literally hundreds of options around town. Topping the list of favorite things gardeners like to receive are useful, high-quality tools and gadgets, everyday garden items, educational materials and plants (picked with discretion).
"Grow your own garden" type packages and gift sets are on the list of things I recommend avoiding. In my early years of gardening, I actually picked up an herb garden kit for myself. I believed the packaging for a while: It said I could grow herbs in my windowsill all winter long. All that grew, however, was doubt in my gardening abilities when the basil grew pale and leggy in a pot I now know was much too small. Now I grow herbs in abundance — outdoors in the summer.
Avoiding pre-packaged gifts takes a little more thought, but there are plenty of options. Here are some of them.
Tools
Pruners: Stick with Felco or Corona brand unless you know your gardener likes something different. Buy only pruners that have curved blades, called bypass pruners. Felco pruners are the brand most commonly used by professionals and will last a lifetime. Some gardeners, like myself, have multiple pairs of pruners to perform different tasks.
If the special gardener in your life already has a few pairs of pruners, consider a sheath or sharpening stone made specifically for pruners.
Trowels: Sturdiness and durability are key with trowels, but there are many suitable brands and styles. One good option (if your gardener has yet to purchase one) is the Radius ergonomic trowel which has a patented design. Although ergonomic tools are proven to be easier on the body when used appropriately, many gardeners have yet to convert to them.
Hori Hori knife: This combination weeder-digger-trowel has a number of fantastic qualities. The first time I saw one I was unsure of what I would do with it, but now it is the first tool I pick up when preparing to work in the garden.
Other specialty tools: There are a number of high-quality Japanese weeders and hoes similar to the Hori Hori knives that are nice gifts for gardeners. A specialized shovel or rake might be useful if the gardener has a special project coming up. Radius also has a whole line of ergonomic tools similar to the trowel.
Gadgets: Gardeners pay a lot of attention to the weather, so items like weather stations, indoor/outdoor thermometers and rain gauges can be nice gifts. On the indoor side, aerogardens are popular for growing herbs and flowers.
Everyday items
Gloves: If the gardener on your list wears gloves, they can for sure use another pair. Check out what type of material they prefer and make sure to get the right size. Nitrile is popular, but so are many cloth and leather styles.
Soap: Even with gloves, gardeners sometimes get a little dirt under the fingernails. A good cleanser, pumice, or specialty soap will help — and maybe even a brush and some lotion.
Flower pots: A nice new ceramic pot, especially an original or with some personality, would be welcomed in many gardeners' collections. Again, keep good taste, high quality and the gardener you are shopping for in mind.
Educational materials
Books: If your gardener is a bit buggy, they might like "Insects in Kansas" from the Kansas Department of Agriculture or "Garden Insects of North America" by Whitney Cranshaw. For general gardening, regional guides for the Midwest are usually the best. The American Horticulture Society's A-Z Encyclopedia of Garden Plants is a nice reference, as is The Encyclopedia of Water Garden Plants. Another option is an anecdotal book on gardening like "People with Dirty Hands."
Magazines: A subscription to Fine Gardening, Organic Gardening, Mother Earth News, or Garden Design might be just the inspiration the gardener on your list needs.
Classes: Has the gardener on your list always been interested in becoming a master gardener? Write up a gift certificate to pay for the classes for them this fall. Or check out area gardening workshops and sign them up.
Plants
Just like the "Grow a garden" kits, avoid pre-packaged amaryllis and paperwhite kits when possible. Be creative. Has the gardener you are shopping for always wanted to try their hands at bonsai? Could he or she use a rare orchid in his or her collection? Would a large glass container and some tropical plants be a good start for a terrarium?
Other ideas
If you really wanted to go over the top, most gardeners would welcome a miniature greenhouse, potting shed, hoophouse, cold frame, or compost bin. Or, if you just cannot decide, a gift certificate to a local garden center is always an option.
Copyright 2018 The Lawrence Journal-World. All rights reserved. This material may not be published, broadcast, rewritten or redistributed. We strive to uphold our values for every story published.