Joe Jones was the first person in the state to be exonerated of a crime by DNA evidence, but life after prison has been difficult.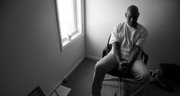 -->
-->
Summary of the case so far:
Based on eyewitness testimony, Joe Jones was convicted of kidnapping and raping a woman in Topeka in 1985.
In 1992, with the help of a lawyer at Kansas University, Jones was exonerated by DNA evidence in one of the first DNA exoneration cases in the country.
No one else was ever arrested for the crime, though Jones' defense team had a suspect they believe was the rapist.
The scientist who tested the DNA in 1992 said his office may still have some testable DNA evidence to be used to find a match in the national DNA database.
The Topeka Police Department has reopened the case and has located the original sexual assault kit. The KBI is evaluating the evidence to see if it can be tested for DNA.
Topeka police have located further evidence that may help solve a decades-old rape case.
Detective Adam Arensdorf with the Topeka Police Department's Special Victim's Unit said the Kansas Bureau of Investigation located in its evidence archives the original sexual assault kit and clothing collected after a 1985 unsolved rape in downtown Topeka.
The evidence includes some of the DNA that eventually freed Topeka man Joe Jones of the crime. Jones was exonerated in 1992 after DNA testing excluded him as the rapist, but no one else was ever arrested for the crime.
The case was reopened after a Lawrence Journal-World investigation revealed that the original scientist who tested the DNA still had some DNA material, stored in a cooler in California since 1992.
Arensdorf said the KBI will now evaluate the evidence it has to see if it's still testable. If it's not, he said, they'll proceed with efforts to obtain the DNA evidence stored by the original DNA-testing firm.
If testing can produce a DNA profile, that information will be entered into the national DNA database, known as CODIS. When Jones was exonerated in 1992, such a database did not exist. The national database would then compare the DNA profile to offenders across the country. If a match were found, police will issue a search warrant to perform confirmation testing, Arensdorf said.
Police have also been in contact with the victim in the case, who now lives out of state, and she is willing to cooperate with the investigation, Arensdorf said.
Though the five-year statute of limitations for prosecution of rape cases in Kansas has long passed, Kansas law allows for prosecution of rape cases for up to one year after DNA evidence has identified a suspect.
Copyright 2018 The Lawrence Journal-World. All rights reserved. This material may not be published, broadcast, rewritten or redistributed. We strive to uphold our values for every story published.