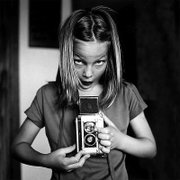 About two years ago, I provided some recommendations on cameras for young children. I came up with a researched list of inexpensive toy cameras by Fisher-Price, VTech and others. Because of the article, a parent purchased one of the listed models. They told me it stunk. So I'm changing my recommendations. Mea culpa.
Considering that children are experiencing digital devices at younger and younger ages, it's not a crazy idea to provide them access to better cameras. I recently heard a report that 6 percent of all children ages 4-7 already have their own personal smartphone, and a much higher percentage has used one. So why not give them an early opportunity to experience a camera? Here's what you want:
Flexibility
Spend a little more money and get a decent camera that your child can grow into and your whole family can enjoy. If your child ends up preferring karaoke to photography, you'll still have a camera your family can use. If you already own a camera, you might consider getting another of the same brand but a less-expensive model. This can help you share accessories like batteries and media cards and would make it easier to instruct your child on operating the camera.
Simplicity
Most point-and-shoot cameras will have plenty of kid-friendly features like programmed/automatic exposure and fill-flash settings. Other worthwhile features to look for would be an auto-off setting to avoid wearing out batteries.
Invincibility
Here's where the rubber hits the road, or, more aptly, the camera hits the floor. Kids will drop cameras, so look for models designed for a little wear and tear. Several companies offer cameras that can withstand drops, drips and drool.
From a little research online here are a few options and some additional resources:
Olympus Stylus Tough-6020, $200: Waterproof and shockproof to five feet and it has an internal memory of 1GB, which means you don't have to have a media card to store photos.
Canon PowerShot D10, $250: On the expensive side, but waterproof to 33 feet, cold resistant from 14-104 degrees (F) and shockproof up to four feet. Plus it has a zoom lens that does not extend outside the body of the camera but remains protected behind a scratchproof encasing.
Canon A800: For around $80, you'll still get good-quality images but the plastic body won't take a licking like the models above. It takes AA batteries, which you can find anywhere but they wear out sooner. I recommend rechargeable batteries for any camera.
If you want to explore digital cameras for the very youngest, check out this site: bit.ly/ihCdbM.

For a list of point-and-shoot cameras for children priced below $75, visit bit.ly/fFwRG5.
Copyright 2018 The Lawrence Journal-World. All rights reserved. This material may not be published, broadcast, rewritten or redistributed. We strive to uphold our values for every story published.