Editor's note: This is another in an occasional series of stories by reporter Andy Hyland, asking Kansas University staff to share "16 Things I've Done." This week, we talked with Tom Stidham, associate director of bands.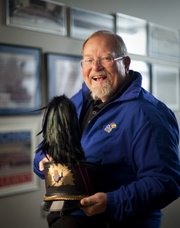 1) Grew up in Lake Placid, Fla., and graduated from Lake Placid High School in a class of seven boys and 18 girls. He married one of the 18 girls, Linda.
2) Returned to his high school after graduating from the University of Florida and taught his sister in band class. He still knew several of the students, but he insisted that he was no longer "Tommy" and that everyone call him "Mr. Stidham." The students all complied, except for his sister, who called him "Maestro." That was OK, too, Stidham decided.
3) Entertained his sister while she was in an iron lung for polio treatments in the late 1940s. At least his sister tells him that he did. She was 3 at the time, and he was 7 or 8. She tells him he did cartwheels to entertain her.
"I've never done a cartwheel in my life," Stidham said.
4) Performed in a fundraising show with entertainer Bob Hope while Stidham led the band at Georgia Southern College. Hope would call him by name during the show. He'd start a song and then say, "Wait, Tom, stop the band!" and tell a little joke or anecdote, and say, "Alright, Tom, go ahead."
"I was a local hero," Stidham said, as many people thought he had a much deeper relationship with the entertainer than he really did.
5) Accompanied the Jayhawk band to six bowl games since arriving at KU in 1975 — the Sun Bowl (1975), the Hall of Fame Bowl (1981), the Mazda Tangerine Bowl (2003), the Fort Worth Bowl (2005), the FedEx Orange Bowl (2008) and the Insight Bowl (2008).
6) Stayed home for two other bowl games — the Aloha Bowl in 1992 and 1995. For those games, the band could only take a limited number of people because of cost restrictions. Stidham gave up his seat on the plane and let a student go instead.
7) Came to KU after being recruited by longtime KU director of bands Bob Foster, whom Stidham met in 1965 while serving as a graduate assistant (a "grad ass," as Stidham called it) at UF.
8) Played in the same orchestra as Robert Cade, the inventor of Gatorade, while studying at UF. Stidham doesn't remember much interaction with him, however. Cade was a viola player, Stidham recalled.
"Who ever would want to talk to a viola player?" he said, in his usual joking manner.
9) Watched his sport coat get hoisted up in a net for catching field goals while directing a band at a Kansas City Chiefs game. Jan Stenerud was the kicker, Stidham recalled, and he remembered nearly getting hoisted up the net with his coat. He yelled for the people hoisting the net to stop after getting his coat button caught. They did, and he got untangled, only to get caught on another button before just letting it go.
10) Directed the KU women's basketball band during the Marian Washington era, as well as the men's basketball band for 10 years under coaches Roy Williams and Bill Self.
11) Answered a question from then-Chancellor Robert Hemenway during one of those basketball trips. Hemenway was curious why many of the band members were shaving their heads. He didn't look too pleased, Stidham recalled.
"What's this?" Stidham remembered Hemenway asking. "I told him the band people respect and admire you so much, they wanted to look like you."
The chancellor laughed and walked away.
12) Auditioned people to sing the national anthem for men's basketball games during his time as band director. He recalled one mishap at a game he missed. Every time a singer performs, Stidham said, the band sends one trumpet player down to play the starting note to help the singer get the right pitch. The trumpet player was filling in for the usual person and apparently misunderstood the directions. The player played the key note, or tonal note, which was several notes too low. The singer started on the wrong note, and quickly wound up singing notes too far out of her range. It sounded rather strange and was embarrassing for everyone, Stidham recalled, but was OK in the end.
"Nobody got killed," he said.
13) Married "the preacher's daughter" and has been married for 48 years, and had three children. He tells people his wife has given him 40 of the happiest years of his life, and 40 out of 48 isn't too bad.
14) Tells people he has a wife and a girlfriend, too. His wife, Linda, and his girlfriend, Cindy, are best friends, though, so it's OK, he said. Cindy Koester is the band office manager and administrative assistant, and she and her husband have been longtime friends of the family. They go out together each Friday night.
15) Directed church choirs and music for about 32 years, both at the First Southern Baptist Church and at Lawrence Free Methodist Church. He's now retired, though.
"Most everybody is appreciative and a volunteer," he said. "My memory is they're pretty good."
16) Has taught students for 50 years and counting, at Lake Placid High School, Georgia Southern University, Baylor University and KU.
"It's the kids who keep me going," he said.
Copyright 2018 The Lawrence Journal-World. All rights reserved. This material may not be published, broadcast, rewritten or redistributed. We strive to uphold our values for every story published.