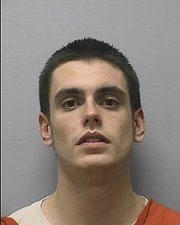 A 23-year-old Overland Park man's blood-alcohol content was nearly three times the state's legal limit two hours after a 2010 crash on Clinton Parkway that killed a 19-year-old Lawrence woman, according to an updated Lawrence police report.
Investigators also calculated that Sean Barrett Walker was driving his 2001 Jeep Cherokee at 56 mph upon impact with the 2006 Nissan Sentra that Mary Grace Paez, a 2010 Lawrence High School graduate, was driving at 1:30 a.m. Oct. 14, 2010, at the intersection of Clinton Parkway and Inverness Drive. The report lists Walker's speeding and being under the influence of alcohol as contributing factors to the crash. Walker's blood-alcohol content was 0.23. The Kansas legal limit to drive is 0.08.
A Douglas County judge on Monday approved a $100,000 settlement in a lawsuit filed by Paez's parents against Walker. The settlement was reached with Walker's insurance carrier, Geico, but documents in the suit did not mention specific details of the crash.
Paez died at the crash scene. Walker, who was treated at the scene for a head injury, refused to submit to testing. Police then obtained a search warrant, and a phlebotomist at Lawrence Memorial Hospital drew his blood at 3:35 a.m., just more than two hours after the crash.
Walker was headed west on Clinton Parkway and entered the intersection on a flashing yellow light. Paez was headed south on Inverness Drive and entered the intersection after she had stopped at a flashing red light. The Jeep struck her Nissan on the driver's side.
According to the accident report, Walker was traveling at least 11 mph faster than the 45 mph speed limit on Clinton Parkway, and Paez's vehicle was traveling 13 mph in the 30 mph zone. A toxicology test on Paez was negative for alcohol and drugs, according to a coroner's report.
Walker is currently serving a prison sentence for a probation violation in an unrelated 2006 Johnson County attempted robbery and battery case, and Douglas County prosecutors in recent months have been reviewing information from the fatality accident.
"We anticipate filing charges in the near future," District Attorney Charles Branson said Friday morning.
Copyright 2018 The Lawrence Journal-World. All rights reserved. This material may not be published, broadcast, rewritten or redistributed. We strive to uphold our values for every story published.