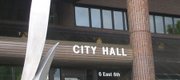 Subscribe to the email edition of Town Talk and we'll deliver you the latest city news and notes every weekday at noon.
News and notes from around town:
• File this in the category of unconfirmed, yet stimulating — stimulating as in full of caffeine. Speculation is growing that Starbucks is close to signing a deal to build a new store in northwest Lawrence. I believe the company is looking at a site that is between Taco Bell and the new Burger King that is under construction in the Bauer Farm development along Sixth Street, just east of Wakarusa Drive. So in other words, kind of in front of the Free State High area. What I hear is that the location — which would be part of a larger retail building that would house other tenants — would include a drive-through. I may be wrong here, but I think that would be the first drive-through location for Starbucks in the city. I also may be wrong — but my bank statements seem to back me up here — that if my wife were to cut herself, she would bleed Hot Salted Caramel Mocha.
• If you've sat through a Lawrence City Commission meeting, you might agree that compressing things is not exactly the city's specialty. But, the city is going to get into the compressed natural gas business — at least in a small way. The city plans to move ahead with a pilot project in 2012 to convert one F-150 pickup truck in the Public Works Department to run on compressed natural gas. The city wants to make the $10,000 conversion — it thinks it will get grant money for about half the cost — in order to get some real-life data about how well a compressed natural gas vehicle works.
If the city likes how the vehicle performs, there are several possibilities for the city to make significant conversions. The city's trash trucks are real fuel guzzlers, and of course, several cities have converted their transit bus fleets over to natural gas.
Finding a way to fill up vehicles that use compressed natural gas has been the tricky part. But now Black Hills Energy has a compressed natural gas fueling area for its vehicles. The city could probably swing a deal to buy CNG from there.
• Probably the larger development to watch, for fans of CNG, is what's going on up at Ninth and Iowa. As we've previously reported, Scott Zaremba, leader of the Zarco convenience store chain, has purchased the former BP station that is just south of his Zarco station at Ninth and Iowa.
Zaremba plans on remodeling and expanding the BP building. He'll then demolish the existing Zarco building, which will give him room to add several more features, like a larger car wash, more fueling pumps — and yes — a compressed natural gas fueling station.
Zaremba had the CNG station in his plans when he filed them with the city several months ago. I checked in with him recently, and he said the CNG idea is still something that he is planning to do. But the idea is going to take some careful study. That's because adding a CNG fueling station that could function much like a regular gasoline pump, will be about a $1 million investment.
Zaremba said he'll be watching the city's pilot project closely because if a fleet of city vehicles were to switch over to CNG, that would make his idea more feasible.
If Lawrence gets a fueling station, it will be interesting to see if the CNG idea catches on with both environmentalists and tight-wads alike. Zaremba said the market prices for CNG have been "cheaper than gasoline by a long shot." Natural gas also burns cleaner than gasoline, which helps with greenhouse gas concerns. Plus, large discoveries of U.S. natural gas reserves makes it more likely that CNG will be a domestic product for years to come.
But, so far, the price of converting a vehicle from running on gasoline to CNG is significant. Zaremba agreed that it often will run about $10,000 for even a standard passenger car. Then there is an issue of fueling stations. If Lawrence had one, that would take care of your local driving needs, but could you leave town and feel comfortable that you would find a place to fill back up?
One step at a time, folks.
"The one thing that is certain," Zaremba said, "is we don't have anything in the carbon world that is easy."
Zaremba got his site plan for Ninth and Iowa remodeling approved by the city last week. He hopes to get started on the project by spring.
• Speaking of not easy, agreeing to serve on the city's Peak Oil Task Force might fall into that category for some folks. It ended up being quite a commitment. The group began meeting in 2008 to come up with a report that summarizes how the community should react to a declining supply of cheap or affordable oil in the future. The task force wrapped up its work this fall, and city commissioners are tentatively scheduled to discuss the report at their Tuesday evening meeting.
The report comes up with some fairly broad strategies that include: building bicycle and pedestrian friendly streets; more mixed-use developments that encourage walking; greater use of public transportation; and more emphasis on reducing trash that must be hauled away by inefficient trash trucks.
But usually the most interesting items in these reports are the more specific ideas that are recommended. None of this means any of these ideas will ever be implemented, although some certainly might. Regardless, they do give you a good idea of some of the thinking behind the report. Here's some that caught my eye:
Encouraging government employees to telecommute, when appropriate.
On-board solar panels for vehicles. Those panels could power devices such as radios, computers and air conditioners, and thus improve fuel mileage.
A bicycle fleet or "industrial tricycle fleet" for government workers who simply need a way to get around town.
Greater use of recycled asphalt for city streets.
Take greater steps to "preserve high-quality soils for agricultural uses" and "carefully weigh the long-range costs and benefits" of extending new infrastructure such as streets and sewers into undeveloped areas. That's the type of policy that can lead to some fairly long land-use discussions at City Hall.
More fruit and nut trees in city parks.
Development of an agricultural-related business incubator that could train people in the practices of sustainable farming.
Create special "green tax abatements" to attract companies in the renewable energy industry.
Solar panels in selected city lots that could power battery charging stations for hybrid vehicles.
New codes that would regulate building heights and tree heights in a manner to make solar energy on residential and commercial structures more feasible. A sidenote here: Mayor Aron Cromwell does own a solar energy business, but he didn't serve on the task force.
Reduce the number of required parking spaces for automobiles at commercial developments. Businesses could qualify for even greater reductions if they entered into a formal program to buy bus passes for employees, for example.
You can read the entire Peak Oil Task Force report — all 56 pages of it — here.

Copyright 2018 The Lawrence Journal-World. All rights reserved. This material may not be published, broadcast, rewritten or redistributed. We strive to uphold our values for every story published.