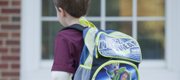 Subscribe to the email edition of First Bell and we'll deliver you the latest local education news and notes every weekday at noon.
In case any of the 1,502 students at Free State High School are wondering, the Lawrence school district hasn't decided yet whether you'll need to spend additional time in school to make up for a lost day of school.
A decision is expected next week, said Julie Boyle, the district's director of communications.
A written threat was discovered the morning of Dec. 1 and spurred evacuation of the entire school and cancellation of classes for the day. The evacuation came just a few minutes before the day's early classes were to begin.
The Lawrence Police Department continues working with the district as it investigates the threat, which was handwritten and had been taped to the exterior, south-side doors at Free State, 4700 Overland Drive.
Anyone with information regarding the threat may provide police with tips through the Crime Stoppers hotline, which is 785-843-TIPS (8477). Crime Stoppers does not subscribe to caller ID, and information leading to an arrest can result in a $1,000 reward.
Information also may be reported to the police department at 785-832-7650.
•••
I'm working on a story about the district's policy regarding holiday observances and, in particular, rules and advice regarding students' giving of gifts to teachers.
I'd love to hear from anyone with advice for others out there about what — if anything — might be appropriate for thanking an educator this holiday season.
I'll be monitoring the comments on this story throughout the day, and I also read emails: mfagan@ljworld.com. You can call, too: 832-7188.
Folks leaving their names and contact information could become my holiday heroes.
•••
Wednesday marked the release of the National Assessment of Educational Progress for 2011, compiled by the National Center for Educational Statistics.
The document, described as "the nation's report card," looks at scores for students in 21 urban districts.
The Lawrence school district was not among them.
For anyone interested in reviewing the numbers and going through the document — it's a long one — I offer this link.
I'm still not clear on whether this would be considered a standards-based report card, by the way.
Copyright 2018 The Lawrence Journal-World. All rights reserved. This material may not be published, broadcast, rewritten or redistributed. We strive to uphold our values for every story published.