Shawnee — A Salvation Army kettle from Shawnee turned up a sparkling surprise when workers opened it to count the day's donations — a diamond.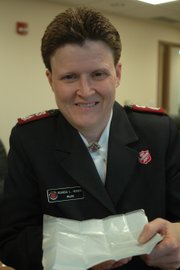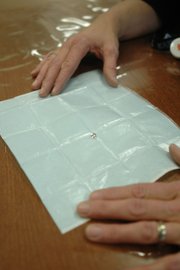 A jeweler appraised the diamond Thursday morning, revealing its retail value is $2,000, said Michele Heaver, the Salvation Army Corps Officer for Kansas City, Kan.
"That could help fill our pantry, help many families who come in for food assistance," Heaver said. "It could help with four or five utility bills, or help a couple people pay their rent."
Someone dropped the stone in the kettle Nov. 30 outside the Walmart at Shawnee Mission Parkway and Lackman Road, Heaver said. When they opened the kettle to count its contents, Salvation Army volunteers discovered a piece of diamond paper with the loose stone inside.
Meierotto Midwest Jewelers, a well-known diamond seller at 4311 NE Vivion Road in Kansas City, Mo., appraised the stone pro-bono, Heaver said. The diamond — a .83 carat round cut — is thought to be 100 years old.
"It had some flaws, but it was a very nice diamond," Heaver said.
Heaver the Salvation Army would probably sell the diamond but had yet to determine how to go about it. Discussions have included the possibility of the jeweler mounting the diamond and helping the charity auction it.
Heaver said the volunteer at the Walmart kettle didn't report anything out of the ordinary and probably didn't even notice the unusual drop.
Heaver said the Salvation Army has discovered rings in their kettles — they can slip off cold fingers and are typically reclaimed — but in her 23 years with the organization she's never heard of a loose diamond.
"I would assume it's a purposeful donation," she said. "It's absolutely wonderful that somebody would give this type of donation. We're very appreciative, and it will help a lot of families."
Copyright 2018 The Lawrence Journal-World. All rights reserved. This material may not be published, broadcast, rewritten or redistributed. We strive to uphold our values for every story published.