Photo Gallery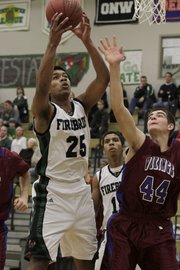 Free State boys vs. Topeka Seaman
Free State High boys basketball coach Chuck Law couldn't help but feel a bit relieved after the Firebirds' 67-57 season-opening win over Topeka Seaman on Tuesday night at home.
FSHS might have held off a second-half push by the Vikings, but with 15 turnovers in the final 16 minutes, Law wasn't about to give the debut a glowing review.
"It was murky," Law said, grinning.
Most of the muck came in the third quarter, when Free State (1-0) turned the ball over 10 times, but somehow extended its halftime lead of 13 to 14 entering the fourth quarter.
"That's hard to do," Law said. "We were real careless with the ball. A lot of guys take a dribble first and look to pass second. That's not what we're gonna do to be successful. We're not gonna be able to just beat people off the dribble, and that hasn't been anything we've done in 17 practices. We've been really good at pushing and sharing and moving without the ball. I guess you get under the heat a little bit, and you just go back to your old habits."
As the Vikings (0-2) tried to mount a fourth-quarter comeback, the Firebirds held them off with transition baskets from seniors Brett Frantz, Cameron Dabney and Shawn Knighton. Also, FSHS went 12-for-15 at the free-throw line in the fourth, with Frantz hitting six straight in the final minute.
The senior guard did even more damage in the first half, making six of his seven shot attempts, including two three-pointers, on his way to a 25-point night. He even added seven boards, three assists and three steals.
Knighton, who scored 13 points, said Frantz's versatility was key in the win.
"Brett's a good player," Knighton said. "He can shoot, he can drive, he can hit free throws."
The Firebirds, Frantz said, were at their best when they got out and ran, which was a critical element of a 14-2 run late in the second quarter.
"Our main goal is to get runnin'," Frantz said. "That's what we need to do."
In that stretch, Blake Winslow, Knighton, Logan Bannister and Frantz all scored, setting up a 13-point lead entering halftime.
Law said there was a lot of room for improvement, but he liked the effort and energy out of all 10 players who played in the season opener.
"They were all into it, they were all engaged," Law said, "and that's a big factor in coaching high school sports."
Copyright 2018 The Lawrence Journal-World. All rights reserved. This material may not be published, broadcast, rewritten or redistributed. We strive to uphold our values for every story published.