Photo Gallery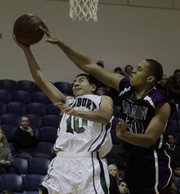 Bishop Seabury boys vs. K.C.-Harmon
Eudora — What could have served as a statement game for the Seabury Academy boys basketball team turned into an ongoing struggle Monday night in the first round of the Cardinal Invitational.
The Class 1A Seahawks, eager to knock off 5A Kansas City-Harmon, never could get into much of a flow and fell, 62-52.
Seabury (1-1) missed its first seven field-goal attempts in the loss to the Hawks (1-1). It wasn't until 1:33 remained on the first-quarter clock that the Seahawks finally got on the scoreboard, when senior Jesse May cut to the paint and fellow senior Thomas Diaz found him for a layup.
But Seabury, which turned the ball over five times in the opening eight minutes, made just one other first-quarter basket — a swooping lay-in by sophomore Khadre Lane — as Harmon took a 12-4 lead entering the second.
Seahawks coach Ashley Battles said his team failed to execute on offense, and when players did get some shots, they rushed them.
"The slow start just absolutely put us on our heels the whole game," Battles said.
The second-year coach said the Seahawks' struggles were so bad that they even had problems doing very basic things, such as getting open to help out a stuck teammate. Those types of issues contributed greatly to the team's 21 turnovers in the game and, Battles said, really set Seabury back.
The rough start, Lane added, helped dictate the rest of the game. The sophomore, who went on to finish with 20 points and 10 boards, said the Seahawks' poor defense became problematic. Lane said the Seahawks were neither cutting off driving lanes nor controlling the defensive glass.
"We didn't box out in the first quarter, and then it became a habit," Lane said. "We need to get better on that."
Harmon was out to a 22-8 lead midway through the second quarter before Seabury senior guard Garrett Gillett hit a three-pointer. Although the Seahawks were able to succeed in spots, Battles said they too often were trying to cut the Hawks' big lead in a hurry, when they should have been steadily chipping away.
"Because we couldn't get a shot to fall, everybody started pressing, and really tried to make something happen instead of allowing our offense to make something happen," Battles said.
That, too, led to the high volume of turnovers, and before long Harmon was applying full-court pressure to further frazzle Seabury's ball-handlers.
"We let them dictate the tempo," Battles said.
Harmon's lead was down to 10 by halftime, but Seabury turned the ball over four times in the first three minutes of the third quarter and trailed by 16. Eventually, the Seahawks cut the deficit to seven after Lane snagged a free-throw miss by Diaz (18 points, eight boards) and put it in with 3:26 left in the quarter. But that was as close as they would get the remainder of the game.
Battles said Harmon did what it took to win, and that the Seahawks were disappointed to be knocked to the consolation bracket at the Eudora tourney.
"We're playing this season for a championship, so this would've been a great way to get one," he said.
The coach was even more disappointed that the 1A team couldn't get its first victory over a large-class school.
"This was our chance to get a 'W' and kind of break the seal and go from there," Battles said. "But, hey, it's a marathon, not a sprint."
Lane, too, expressed dismay with the result, but said Seabury will have to recover quickly.
"We'll have to use it as motivation," he said of the loss, adding the Seahawks need to be more prepared for their second game at Eudora.
At 5 tonight, Seabury will face the loser of Monday night's first-round game between Eudora and Bishop Ward.
Copyright 2018 The Lawrence Journal-World. All rights reserved. This material may not be published, broadcast, rewritten or redistributed. We strive to uphold our values for every story published.