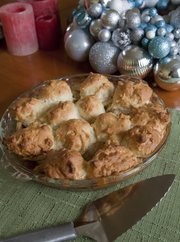 Pie and cookies may spar to be the season's top dessert option, but that doesn't mean they are the end-all, be-all of holiday sweets.
Yes, candy canes and fruit cake and concoctions made with eggnog or mint are also good winter winners, to be sure. And there's nothing wrong with any of those offerings, either alone or in combination.
Still, there might be one hearty winter dish you're overlooking this winter. Something that can as easily incorporate the sweet or the savory, your seasonal favorites or the frozen bounty of summer past.
The humble cobbler.
Not quite pie, the cobbler is its own delectable animal. It's perfect not only for the holiday parties studding your calendar, but also for breakfast on those mornings when frost clings to your windows and cold cereal won't cut it.
In theory, cobbler is just a fruit base covered with a batter of some sort cooked over the top, but that description, like cobbler in general is about as shifty as the Cheshire Cat.
We found cobblers made in the oven, made on the stove, made without heating at all.
We found them filled with berries, pears and green chilies.
We even found a cobbler so chameleon-esque it goes by "crumble" rather than cobbler — can your average Christmas cookie do that?
Recipes
Stovetop Peach Cobbler
2 1/2 to 3 cups fresh or semi-frozen sliced, peeled peaches
2 tablespoons peach or raspberry liqueur, or plain brandy
1 tablespoon fresh lime juice
1 scant cup whole wheat flour
2 tablespoons sugar
1 teaspoon baking powder
1/2 teaspoon baking soda
1/4 teaspoon salt
1/2 cup vanilla soy creamer
2 tablespoons melted butter or vegetable oil
Combine peaches, liqueur, lime juice and 3 tablespoons water in a deep, medium-sized, non-reactive skillet. Stir gently to combine. Bring to simmer over medium heat.
Meanwhile, whisk flour, sugar, baking powder, baking soda and salt in a bowl. Whisk melted butter or oil in another bowl. Stir wet mixture into dry mixture.
Drop batter by large spoonfuls over peaches. Cover tightly and cook undisturbed over low heat until dumplings are firm, 15 minutes. Serve hot with maple syrup or warm with whipped heavy cream.
— Recipe by Terese Allen for www.organicvalley.coop
Raw Apple Cobbler
2 apples, sliced horizontally and cored
1/2 cup raw cashews
6-7 dried figs
1 tablespoon maple syrup
Caramel sauce (see below)
Pulse cashews, figs and maple syrup in food processor until a sticky crumble mixture forms. Stack apple with figgy cashew mixture between each slice, drizzle with caramel sauce. Serves 2.
Caramel sauce
2 tablespoons lucuma powder
2 tablespoons maple syrup
1 tablespoon organic apple sauce
Stir until lucuma dissolves. Drizzle over apple cobbler.
— Recipe by Kristina Sloggett for spabettie.com
Green Chile and Cheddar Cornbread Cobbler
2 tablespoons olive oil
2 onions, diced
6 green Anaheim chilies, thinly sliced (or 4 poblano)
2 red bell peppers, thinly sliced (or green bell peppers)
1-2 tablespoons minced garlic
2 teaspoons cumin
Salt & pepper to taste
8 ounces cheddar, grated, divided
8 ounces cream cheese, cut into chunks
Biscuit Topping
1/4 cup honey
1 cup milk
1 egg
3 tablespoons butter, melted
1 cup yellow cornmeal
1 cup flour
2 teaspoons baking powder
1/2 teaspoon baking soda
1/2 teaspoon salt
Sour cream to taste (or fresh tomato salsa)
Grease an 8-by-12-inch baking dish. Heat olive oil in large skillet over medium flame. Add onions and cook, stirring often, until they begin to soften. Add chilies, bell peppers, garlic and cumin. Continue to cook, stirring occasionally until vegetables are just tender. Season with salt and pepper to taste.
Heat oven to 400 degrees. Spread half the mixture into the baking dish. Arrange half the cheddar cheese over mixture. Spread remaining chile mixture over cheese. Scatter the cream cheese over mixture.
To make topping: Mix wet ingredients in a bowl. Mix dry ingredients in another bowl. Stir the two together until just combined. Spread topping evenly over chile/cheese layers. Bake at 25 minutes. Arrange or scatter remaining cheddar over topping and bake another 5 minutes.
Serve with sliced tomatoes, salsa or sour cream.
— Recipe by Terese Allen for organicvalley.coop
Apple Apricot Crumble
1/2 cup dried apricots, chopped and soaked in boiling water to cover for 1/2 hour
4 cups chopped, peeled apples (a mixture of sweet and tart apples, 4 to 5 apples)
3 tablespoons apple juice concentrate
1/2 teaspoon cinnamon
Topping
2 tablespoons melted butter or canola oil
2 tablespoons apple juice concentrate
2 tablespoons maple syrup
1/4 cup turbinado sugar
1/2 cup whole-wheat pastry flour
1 teaspoon baking powder
1/4 teaspoon salt
1/2 teaspoon cinnamon
1 cup quick-cooking rolled oats
Preheat oven to 350 degrees. Drain apricots. Mix apricots with apples, along with apple juice concentrate and cinnamon. Place mixture in an oiled, 10-inch baking dish.
To make topping: Stir butter or oil, apple juice concentrate, maple syrup and sugar together. When well blended, sift in flour, baking powder, salt and cinnamon. Mix well. Finally, work in the oats to form a stiff topping. Sprinkle evenly over fruit and bake for 45 minutes, or until apples are tender. Serves 8.
— Recipe by Nancy O'Connor in "Rolling Prairie Cookbook."
Creamy Pear Cobbler
4 cups pears, peeled and sliced firm (about 3 large pears)*
Juice of 1/2 lemon
3 ounces cream cheese, softened
1/2 cup sour cream
3/4 cup sugar
2 tablespoons all-purpose flour
1 egg, large
1 teaspoon vanilla
Oatmeal topping (recipe follows)
Instructions:
Preheat oven to 375 degrees. Toss pears with lemon juice and set aside. Beat cream cheese, sour cream, sugar, flour, egg and vanilla at medium speed with an electric mixer until smooth. Gently stir in pear mixture. Spoon into a lightly greased 11-by-7-inch baking dish. Sprinkle with oatmeal topping. Bake for 45 minutes or until golden. Cool slightly and serve warm with ice cream. Serves 6 to 8.
Oatmeal Topping
1/2 cup oats, uncooked regular
1/2 cup brown sugar, firmly packed
1/2 cup sugar
1/4 cup all-purpose flour
1 teaspoon cinnamon, ground
1/4 cup butter, cold, cut-up
1/2 cup walnuts, coarsely chopped
Stir together oats, brown sugar, granulated sugar, flour and cinnamon. Cut in butter with a fork or pastry blender until mixture is crumbly. Stir in walnuts.
*4 cups peeled and sliced Granny Smith apples (about 3 large apples) may be substituted.
— Recipe from www.chsugar.com
Biscuit-Topped Apple Cobbler
5 large granny smith apples, peeled, cored and sliced
1/2 cup plus 1 tablespoon honey, divided
1 tablespoon arrowroot
1 tablespoon lemon juice
1 1/2 teaspoons cinnamon
1/2 teaspoon nutmeg
1/8 teaspoon cloves
3/4 teaspoon sea salt, divided
2 cups white whole wheat flour
1 tablespoon baking powder
1/4 cup high heat safflower or sunflower oil
1 cup 1-percent milk or unsweetened soy milk
Preheat oven to 400 degrees.
In large bowl, toss apples with 1/2 cup honey, arrowroot, lemon juice, cinnamon, nutmeg, cloves and 1/4 teaspoon of the salt. Mix well, using your hands to completely coat the apples. Spoon mixture into 9- or 10-inch deep-dish pie plate.
In a large bowl, combine flour with baking powder and remaining 1/2 teaspoon sea salt. Drizzle remaining tablespoon of honey along with the oil over the flour mixture, cutting them in with a fork or pastry blender until the dough resembles small peas. Add milk, stirring to make a soft, moist batter.
Using a tablespoon, drop small amounts of biscuit dough evenly over the top of the cobbler. Bake for 10 minutes, then reduce heat to 350 degrees and continue to bake for 30 to 45 more minutes or until apples are tender and bubbly, and dough is golden-brown. Cool on a wire rack before serving.
— Recipe from www.wholefoodsmarket.com
Cran-Raspberry Cobbler
1/2 cup sugar
1 teaspoon cornstarch
2 cups cranberries
2 cups raspberries
1 teaspoon lemon juice
Biscuit Topping
1 large egg
3 tablespoons unsalted butter melted and cooled
1/4 cup heavy cream
1/2 cup flour
1 tablespoon sugar
1 teaspoon baking powder
Cinnamon, to taste
Vanilla ice cream, to taste
Preheat oven to 400 degrees.
Combine sugar and cornstarch in a bowl. Blend in the berries and lemon juice. Arrange into ungreased 2-quart casserole. Set aside.
Combine egg, melted butter, and cream in a bowl; Whisk and set aside.
Biscuit Topping: Combine flour, sugar, baking powder and cinnamon in a bowl. Make a well in center of dry ingredients, and put egg mixture into well. Mix dry and wet ingredients and work dough until just mixed together. Drop dough by spoonfuls onto fruit, spreading evenly over the surface. Bake 25 to 30 minutes or until biscuit topping is golden brown. Serve warm with ice cream.
— Recipe from www.melissas.com
Copyright 2018 The Lawrence Journal-World. All rights reserved. This material may not be published, broadcast, rewritten or redistributed. We strive to uphold our values for every story published.