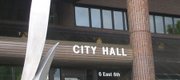 Subscribe to the email edition of Town Talk and we'll deliver you the latest city news and notes every weekday at noon.
News and notes from around town:
• The holiday season is make or break time for local retailers. (Funny, it seems like broke or broke time for me.) But a recent sales tax report from the city indicates that retail activity in Lawrence is entering the holiday season on a strong note.
Sales tax collections are up about 3.5 percent — or about $880,000 — through November. But sales tax collections lag by 30 to 45 days, so this only represents retail activity through about mid-October. In other words, retailers and the city's coffers aren't completely in the clear. What happens with sales in November and December will still a go a long way in setting the mood at City Hall and on Massachusetts Street. But so far, the numbers are positive.
I know some of you may scoff at a 3.5 percent increase, saying inflation makes up a large part of the increase. That may be true, but it is still a more welcome sight than what the city has experienced in past years. In 2009, the city saw comparable sales tax collections decline 3.1 percent, and in 2010 they declined by 1.6 percent.
• As we reported last week, city commissioners on Tuesday will be deciding the future of a proposal to build a six-story hotel/apartment building on the southeast corner of Ninth and New Hampshire streets. The discussion Tuesday night will be about whether the building fits into the downtown design guidelines and is compatible with a historic neighborhood to the east.
But make no mistake, there will be a second train come through the station on this project. If the project proceeds, there will be a discussion about financial incentives for the development.
I haven't seen a formal proposal yet, but in chatting with some folks involved, it sounds like using Tax Increment Financing will be the most likely form of assistance requested. A TIF, in simplified terms, is a type of incentive where a portion of the new property and sales taxes from a project go into a special government account that is used to pay for public infrastructure type of improvements related to the project. In this case, it seems that would include the private underground parking that the hotel/apartment project would provide.
The vacant property already is part of a TIF district that was created when the PepperJax's Grill building and public parking garage was built. But it sounds like developers will want that TIF extended for several more years, or have a new one created.
A TIF does not cause an increase in the amount of sales tax that a consumer pays when shopping — or in this case, lodging — at the development. Those type of incentives are Community Improvement Districts or Transportation Development Districts. It will be interesting to see if the development group — which is led by Lawrence businessmen Doug Compton and Mike Treanor — will seek any sort of special sales tax district.
A special sales tax seems less likely than a TIF, at this point. The developers certainly have caught wind of the public's concern about special taxing districts. But, is this the type of development where the city and the public might be more interested in a special tax? After all, it is mainly a hotel, although there will be some retail and a restaurant. But most of the people paying a sales tax at the location will be people from out of town. Have you ever got hit with a special tax when staying in a hotel in another community? (I won't tell you everything I've been hit with while staying in a hotel in another community.)
One way to think of it is this: A TIF will take money that otherwise would be going into the city's general fund and using it to pay for improvements related to the project. A CID or a TDD allows the city to keep that money, but creates a new tax to pay for the improvements. A TIF is probably more friendly to taxpayers, but less friendly to the city's coffers.
I'll let you know when I see some more details on what is being proposed. I mainly just didn't want folks to think Tuesday's discussion will be the last one about this major downtown project.
• A couple of weeks ago, we wrote about a program the Police Department wants in order to help officers buy patrol rifles to carry in their squad cars. It is basically a lease-purchase program that allows the city to buy the rifles upfront and then the officers can buy the rifles from the city on an installment plan. You can read the article for more details.
Well, city commissioners are going to consider that issue at their Tuesday meeting. The city had heard from at least one member of the public who wanted more information about why patrol rifles were even needed in the first place. Police Chief Tarik Khatib put together a memo on the subject here. But there were some numbers about gun usage in Lawrence that I thought were worth passing along. The report includes the average number of incidents per year from 2006 to 2010 for several gun-related police calls. The numbers are:
130 disturbances with weapons per year in the city. The high was 170 in 2006 and the low was 94 in 2010.
136 reports per year of sounds of gunshots. The high was 156 in 2007 and the low was 110 in 2006.
44 reports per year of suspicious activity with a weapon. The high was 52 in 2008 and the low was 38 in 2010.
26 shootings per year. The high was 41 in 2009 and the low was 14 in 2010.
0.6 deaths per year from shootings. The high was 2 in 2008. The low was zero in 2007, 2009 and 2010.
146 firearms per year placed in evidence. The high was 200 in 2006. The low was 111 in 2008.
Some of you previously had asked questions about the specific type of weapons and ammunition and other technical issues related to this subject. Well, we aim to please. (You aim too, please. Especially if you are a carrying a rifle.) According the chief's memo, the currently authorized patrol rifle is .223 caliber Colt "AR" platform. It is semi-automatic version of a weapon utilized by the military. The police's ammunition of choice is a 55 grain or about 3.6 gram, hollow-point bullet. The hollow point bullet is designed to expand upon impact of the target, making the likelihood of the bullet passing through the target and striking something unintended less likely. In fact, the chief writes that the heavier bullets used in the .40 caliber pistols carried by officers are more prone to passing through the intended target.
A bullet from a patrol rifle can travel up to 1.5 miles. A bullet from .40 caliber patrol pistol can travel a little less than a mile. A patrol rifle is reasonably accurate up to about 900 feet, but its more practical range is about 225 feet. A patrol pistol can be accurate to about 100 feet, but usually are used at distances of less than 10 feet.
"Accuracy is the best way to minimize collateral damage," Khatib writes. "The patrol rifle is more accurate than either the police pistol or shotgun."
City commissioners meet at 6:35 p.m. on Tuesday at City Hall, Sixth and Massachusetts streets.
Copyright 2018 The Lawrence Journal-World. All rights reserved. This material may not be published, broadcast, rewritten or redistributed. We strive to uphold our values for every story published.