"Clothes make the man. Naked people have little or no influence on society." — Mark Twain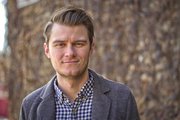 5 Essentials for guys
Proper fit makes all the difference. It won't really matter what you're wearing if it is two sizes too big or a size too small. Well-tailored clothing looks great, no matter the cost.
Treat your clothes well. Hang shirts, treat your shoes and fold your pants. They will look better for much longer.
Quality over quantity. If it lasts, it will save you money in the long run, and it will save you the hassle of having to shop more often. Plus, who doesn't want their favorite shirt or pair of jeans to last forever?
Invest in staples. Don't hesitate to spend money on things like dress shoes, sport coats and boots. You will always need these things, and they never go out of style.
Don't be afraid to put forth some effort. People are more confident and feel better about themselves when dressed well, studies show.
My name is David, and I sell clothes. But let's get one thing straight: I am not a fashion guy.
I am as baffled by the runway as I am by a silent film or a French restaurant upon first visit. And while I can be caught watching "Project Runway" with my wife, you would be hard-pressed to get me out of my favorite pair of jeans.
What I have come to understand, however, is that clothes, to a very certain extent, do make the man.
I grew up here in the Midwest; we were in and out of our "Sunday best" before lunch. My mother combed my hair, and my father told me to stand up straight. They both worked their way through college, and my grandparents had lifelong careers in a southern Missouri shoe factory.
So at first glance, I really may have grown up as far from fashion as anyone.
But I really believe that men's style has survived in spite of fashion, and more as a result of the values we call our own here in the middle of our country. While trends may dictate minor changes in the details, men's style has always been rooted in its timelessness. Turn on any episode of "Mad Men" and you'll see right away that men's style hasn't really changed over the last 50 years (and even longer, for that matter).
So for us guys, it is really all about finding those quality staples in a wardrobe that are versatile and built to last a lifetime. That great pair of boots, the perfect-fitting jacket, a pair of jeans you can beat up and break in — it really doesn't take a closet full of options to give a man great style.
And maybe most importantly, you don't have to break the bank to look good. I am a young guy — heck, I am still paying for college — and I know what it means to really stretch a dollar for all its worth.
I think there are some keys to a wardrobe worth an investment, and there are plenty of other places to save a buck or two.
Every month I will set out to explore practical ways us guys can really bolster our wardrobe, regardless of where we are in life or what we do.
We'll highlight great local spots to find what you need; we'll talk about how things should fit, and how to spot great quality whether you are at a thrift store or the local boutique.
We've all heard the saying a thousand times: "Never judge a book by its cover." But the bottom line is we've all done it, and our first impressions are undeniably visual ones.
Your appearance tells others who you are before you ever have the chance to open your mouth. Why not take the opportunity to have some fun with it?
Copyright 2018 The Lawrence Journal-World. All rights reserved. This material may not be published, broadcast, rewritten or redistributed. We strive to uphold our values for every story published.