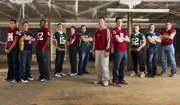 First Team
Nick Bennett, Veritas Christian senior quarterback — a one-man wrecking crew, QB threw 23 passing touchdowns and ran for 27 on his way to more than 6,400 all-purpose yards for 10-1 Eagles.
Anthony Buffalomeat, Lawrence senior wide receiver — Lions' most reliable receiver hauled in 49 receptions for 609 yards while also serving as a starting defensive back and punter.
Hayden Chandler, De Soto senior lineman — missed some action due to an elbow injury, but the 6-foot-2, 300-pounder still made All-Frontier League on offense and managed 38 total tackles defensively in six games.
Shawn Dailey, McLouth senior running back — former slot receiver became starting single back for the Bulldogs (7-2) and ran for 1,126 yards and 19 touchdowns, helping MHS outscore opponents an average of 41-13.
Kyle McFarland, Free State junior quarterback/cornerback — two-way player passed for 1,265 yards and 12 TDs, added 783 yards and seven scores on the ground, and, as a corner, broke up nine passes and intercepted three others.
Greg Snell, Eudora senior lineman — a dominating presence for the Cardinals' rush-heavy attack, Snell constantly showed great punch off the snap and finished blocks as EHS (12-2) took second place in the Class 4A state playoffs.
Cody Stanclift, Free State junior lineman — first-team All-Sunflower League defensive lineman had 45 tackles and 11 tackles for loss in Firebirds' 6-3 season.
Brad Strauss, Lawrence junior quarterback/free safety — do-it-all Lion not only went for 2,501 total yards and 23 total touchdowns on offense, but led LHS (6-4) in tackles on the other side of the ball.
Sean Thomas, Lawrence senior tackle — two-way lineman and LHS team captain graded out consistently by coaching staff as Lions' top offensive lineman and was a key cog in the team's success on both sides of the ball.
Derek Webb, Eudora senior quarterback/safety — a leader for EHS offensively and defensively, Webb finished with 1,690 total yards, 19 TDs, 73 total tackles and four picks during the Cardinals' wildly successful 12-2 season.
Player of the year
Lawrence junior
Brad Strauss
Despite missing all of one game and most of another because of a left ankle injury, Strauss was a semifinalist for the Simone Award, given each year to the top football player in the Kansas City metro area. The junior QB rushed for 723 yards and 11 TDs, threw for 1,778 yards and 12 scores, blocked three kicks, returned a kickoff for a touchdown and even served as a holder on LHS field goals and PATs.
Coach of the year
Gregg Webb, Eudora
Webb's Cardinals disposed of 11 opponents in a row on their way to a berth in the 4A state title game, a first for the program. EHS lost to Rose Hill, 21-0, in the championship, but still finished with a 12-2 record, held the opposition to 11.4 points a game and ran for 4,136 yards and 40 touchdowns in a historic season.
Honorable mention
(alphabetical, by school)
Chad Berg, Dayton Valentine, Baldwin; Alex Whitten, Eudora; Joe Dineen, Free State; Alen Kramer, Marc Walbridge, McLouth; Jonathan Denton, Jeremy Immenschuh, Luke Kellum, Perry-Lecompton; Alex Dahl,
Blade Wright, Santa Fe Trail; Ryan Lynch, Tonganoxie; Bryce Boland, Preston Randall, Veritas; Logan O'Dea, Jesse Lamay, Nolan Rush, Wellsville.
Copyright 2018 The Lawrence Journal-World. All rights reserved. This material may not be published, broadcast, rewritten or redistributed. We strive to uphold our values for every story published.