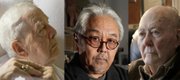 The Japanese attack on Pearl Harbor 70 years ago today changed the United States. It also changed the lives of three men. Vincent Muirhead, Lawrence, and Dorwin Lamkin, Mission, both served aboard ships at Pearl Harbor. Lawrence artist Roger Shimomura spent part of his youth in internment camps. Our special project includes their stories, archived newspaper and audio reports, and a photo gallery of the events of Dec. 7, 1941.
Audio Clips
Audio reports of the Pearl Harbor attacks
Photo Gallery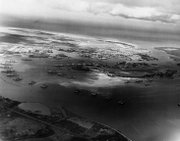 The attacks on Pearl Harbor
Seventy years after the Japanese attack on Pearl Harbor, scholars of history say the event shaped the lives of many who lived through it, long after the Dec. 7, 1941, date that lived in infamy. But that influence may be waning with younger generations.
From 1969 to 2006, Ted Wilson, a Kansas University history professor, taught a course on World War II. As part of the course, he required his undergraduate students to conduct oral histories of people from the time period. It didn't have to be someone who served in the military, Wilson said, but it certainly could have been. Though the course was an introductory history course with large numbers of students, Wilson graded all the oral history papers himself.
He estimates he read about 8,500 of them over the years, and he's kept about 3,500 of them in the basement of his home.
Wilson said several major themes emerged for the people who remembered the event firsthand.
Only a small number of them knew about Pearl Harbor or where it was before the attack, Wilson said. And, as it represented the beginning of America's entry into World War II, it also represented the beginning of many changes for people all across the country.
Women, in particular, often found jobs and opportunity. Women whose husbands were serving suddenly found themselves working for the Sunflower Army Ammunition Plant and living in tiny cabins in De Soto. Men, both inside and outside of the military, were able to learn new skills that prepared them for new careers.
"There are several seminal events that, at least in terms of perception, change the way the population and the people think about issues," Wilson said. Pearl Harbor, he said, was one of a relatively few of those moments.
Hal Wert was a graduate student teaching assistant for Wilson's class and has since gone on to his own career as a World War II historian. He currently teaches history at the Kansas City Art Institute and serves as an adjunct faculty member at KU in its international studies program.
He's noticed that the attack is slipping from the minds of his students more and more.
"If you ask me what it means to my students, it's nothing," he said. "The war in Vietnam is ancient history."
This is nothing new, though, Wert said. History has a natural tendency to fade. And with more and more members of the World War II generation dying each day, Pearl Harbor will likely continue to slip from the national consciousness, he said.
"Before Pearl Harbor, the patriotic rallying cry was 'Remember the Maine,'" Wert said, referring to an ill-fated battleship in the Spanish-American War, in 1898. "I would guess not too many people today remember the Maine."
Still, for many older Americans, the parallels between Pearl Harbor and the 9/11 attacks are obvious, Wert said. Both were surprise attacks that profoundly affected the nation's people.
"The same issues persisted afterward," he said. "Should we have known and could you connect the dots?"
Grant Goodman, an 87-year-old retired KU Japanese historian, gave a presentation on Pearl Harbor last year with Wilson from the point of view of the Japanese.
"People today have no idea what the people in Japan suffered" after the war, Goodman said.
The booming economy of Japan today bears little reflection of the difficult post-war times. But the world's technology is advancing at a far greater pace.
"Seventy years in today's world is like hundreds of years, years ago," Goodman said. "You talk about World War II, you may as well be talking about the Trojan War."
Copyright 2018 The Lawrence Journal-World. All rights reserved. This material may not be published, broadcast, rewritten or redistributed. We strive to uphold our values for every story published.