When people struggling with poverty come into the ECKAN office for assistance, whether they need funds to pay their rent or canned goods from the agency's Just Food pantry, volunteer Nicole Dyke provides them with much more than physical assistance. She offers emotional support born out of empathy. She knows what folks are facing, the sense of hopelessness and frustration they feel when they can't pay the rent or feed their families.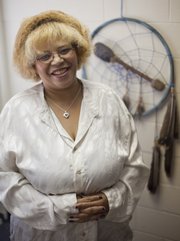 "I've been there. I've lived it. I've been homeless," Dyke said.
Years ago, she was a single mom, working to support her two boys, then ages 3 and 4, when she was injured. The injury caused her to lose her job and prevented her from finding another.
"We lived in a car, in the wintertime," she remembers. "It was tough. But I didn't let my spirits get down."
Dyke's indomitable spirit has made her a powerful volunteer for ECKAN, where she's been a full-time unpaid staff member for the past five years, logging up to 40 hours a week manning the phones, administering the Senior Commodities program and running the Holiday Bureau, through which individuals and families are "adopted" for the holidays.
ECKAN, which stands for East Central Kansas Economic Opportunity Corp., is a community action agency that serves low-income people by providing services ranging from food and utilities assistance to access to affordable housing.
Lillie Okwuone, ECKAN's coordinator, is so thankful for Dyke's unflagging support that she nominated Dyke for the United Way Roger Hill Volunteer Center's 2010 Wallace Galluzzi Outstanding Volunteer Award.
With Dyke sharing many of the day-to-day duties of the busy office, which serves about 4,800 clients a year, Okwuone says she is freed up to do more comprehensive case management for clients and to collaborate with other social service partners in Douglas County.
"Nicole loves people and gives joy to others," Okwuone shares. "She has such a caring and giving personality that you feel good when she is around you."
"I like helping people — it's something I was born to do," Dyke said. "Knowing you can help someone and get something they need, it makes you feel good. Sometimes people just want to talk to someone, but no one else will listen."
During the holiday season the ECKAN office is busy, so Okwuone is hoping other volunteers will join the team. Now, ECKAN needs volunteers to provide general administrative support, to adopt families and individuals through the Christmas Bureau, and to stock food shelves at Just Food.
To find out more about volunteer opportunities at ECKAN, contact Okwuone at 785-841-3357 or lokwuone@eckan.org.
Copyright 2018 The Lawrence Journal-World. All rights reserved. This material may not be published, broadcast, rewritten or redistributed. We strive to uphold our values for every story published.