On the street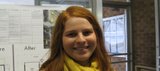 It's important to preserve historic resources — people can understand the present through understanding the past.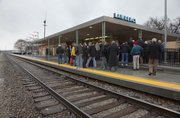 Things are on the right track.
That's what members of Depot Redux, a community group that aims to restore and improve the Santa Fe Depot at 413 E. Seventh St., had to say on Saturday, the day the ribbon was cut on a new platform, funded through federal dollars awarded to Amtrak.
Carey Maynard-Moody, the president of the group, said before the ceremony that the new, wheelchair-accessible, $1.5 million outdoor platform was the best step forward for the group — well, except for the City Commission approving a plan to acquire the station back from rail company Burlington Northern Santa Fe.
Mayor Aron Cromwell, state Sen. Marci Francisco, D-Lawrence, and Marc Magliari, a spokesman for Amtrak, all spoke to the crowd of about 50 at the event, and each gave a different, optimistic take on what journeys could be next for the station. The station currently sees two passenger train arrivals per day.
"This isn't about more trains," Maynard-Moody said, "but we have to believe that there will be more trains someday. No matter what, we see a good thing in the commitment to the project."
Cromwell talked about the value of the restoration of the building itself.
"It's becoming a real jewel for east Lawrence," he said, and he praised the "neighborhood involvement" shown by the Depot Redux group.
He also spoke of "returning the depot to its original use and expanding that use," a reference to a proposal to use the depot as a city transportation hub.
Francisco, a self-proclaimed big Amtrak user, said the station provides "robust opportunity that continues into the future."
But Depot Redux has been lobbying, volunteering and organizing for nearly four years to get this point, Maynard-Moody said, and as much as supporters reveled in the new platform's opening, they realize the challenges that lie ahead.
"Patience is a virtue," she said.
Copyright 2018 The Lawrence Journal-World. All rights reserved. This material may not be published, broadcast, rewritten or redistributed. We strive to uphold our values for every story published.