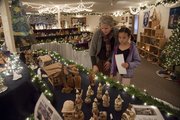 Festival of the Nativities
When: Noon to 4 p.m. Saturdays and Sundays until Dec. 18
6:30 to 8:30 p.m. Thursday, Dec. 15
Where: Centenary United Methodist Church, 245 N. Fourth St.
The North Lawrence community is also invited to a soup supper from 6:30 to 8:30 p.m. Dec. 12.
Each one has a story. This one is especially heavy on symbolism.
In this one, unlike most, if not all, the others, it's Joseph holding the baby. He has an excited but serene look while the mother, Mary, looks on, anxious but happy, just like when the artist's son was born. Around them stand angels with gifts of light, love and peace. Wise men represent the stages — and burdens — of human life.
Chris Jump tells the story of this nativity scene from the upstairs room of Centenary United Methodist Church, 245 N. Fourth St. It's the 17th year the church has held the fundraising event, and this scene is just one of the more than 350 sets on display.
Jump, who has been working with other church members on the display since just after Halloween, said that, other than this one, her favorites are the nativities from other countries.
"They represent individual cultures and the way they've seen God in their image," she said.
She said people come by the event as a quiet, reflective way to begin their Christmas season.
But she's seen plenty of visitors from outside the Christian tradition who "come even just for the art of it."
Event founder Nancy Atchley agreed that it was the varieties of the nativities — some of which are small, some big, some wood, or porcelain or cloth — that made their church's event special as well as a good reminder of the religious meaning to the hectic season.
"We hope they're impressed by it," she said of community members who come through. "We hope to go for the 'wow' factor."
The display runs weekends until Dec. 18.
Copyright 2017 The Lawrence Journal-World. All rights reserved. This material may not be published, broadcast, rewritten or redistributed. We strive to uphold our values for every story published.