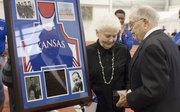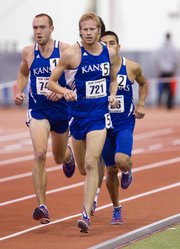 Fifteen members of the Kansas University track and field team won events on Friday during the season-opening Bob Timmons Challenge at Anschutz Sports Pavilion.
Natalie Becker took first in the women's 3,000-meter race, the first-ever event on the pavilion's newly installed track.
The Jayhawks' next meet will be the Bill Easton Classic at 1 p.m. on Jan. 7, 2012, at Anschutz Pavilion.
Copyright 2018 The Lawrence Journal-World. All rights reserved. This material may not be published, broadcast, rewritten or redistributed. We strive to uphold our values for every story published.