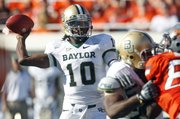 Some Heisman Trophy voters have already entered the secret password, filled in the proper ballot number and hit the send button. With so many teams playing today, that seems strangely premature. Ballots, which require voting for three candidates in order of preference, are due at 4 p.m. Monday. I'll send mine Sunday, choosing three from the 10 names I still consider worthy of consideration.
In alphabetical order, here are the 10 from which I'll choose:
Montee Ball, Wisconsin: The 5-foot-11, 210-pound junior running back from Wentzville, Mo., has scored a Big Ten-record 34 touchdowns (29 rushing) and is second in the nation with 1,622 rushing yards (behind Western Kentucky's Bobby Rainey, 1,695), which are always difficult to come by against top Big Ten defenses.
Robert Griffin III, Baylor: Born in Okinawa Prefecture, Japan, where both of us parents were stationed serving our country in the U.S. Army, Griffin has an All-American game, head and personality. The family lived in Washington state and New Orleans before making its way to Copperas Cove, Texas, where Griffin played high school football and was recruited by, among others, Kansas. A 6-2, 220-pound jet, Griffin has thrown for 34 touchdowns and 3,678 yards and has rushed for 612 yards and seven touchdowns. The way he finished the Oklahoma game will be talked about for centuries in Waco.
Case Keenum, Houston: A 6-2, 210-pound, sixth-year senior from Abilene, Texas, Keenum has thrown 43 touchdown passes and just three interceptions and has led his team to a 12-0 record.
Collin Klein, Kansas State: Has rushed for 25 touchdowns and thrown for 11, enabling Kansas State to bring a shocking 9-2 record into its final game of the regular season. The 6-5, 226-pound junior from Loveland, Colo., shows an athlete who doesn't pass particularly well still can find a way to become a great college quarterback.
Luke Kuechly, Boston College: This 6-3, 237-pound junior inside linebacker from Cincinnati leads the nation in solo tackles, and he punctuates each one with a growl.
Andrew Luck, Stanford: A 6-4, 235-pound fourth-year junior from Houston, Luck would have gone in the first few picks of last year's draft but enjoyed college football so much he came back for more and has thrown 35 touchdown passes. Son of Oliver Luck, athletic director at West Virginia and former Houston Oilers quarterback, Andrew Luck has not regretted his decision for a second.
Whitney Mercilus, Illinois: This junior is the most underrated player in college football. Quarterback is without question the most important position in football, so it stands to reason that the next most important thing to have on a roster is a player who excels at disrupting an offense. Nobody does that better than Mercilus, the 6-foot-4, 265-pound defensive end from Akron, Ohio.
Trent Richardson, Alabama: A 5-11, 224, junior from Pensacola, Fla., Richardson has 1,583 rushing yards and 327 receiving yards.
Brandon Weeden, Ok lahoma State: A second-round draft choice by the New York Yankees in 2002, Weeden didn't make it as a pitcher. Football's his sport. A 6-4, 218-pound senior from Edmond, Okla., he has thrown for 4,111 yards playing for a coach who doesn't believe in running up the score and goes to his second-string quicker than most. Weeden, 28, still has a few good years left in his body.
Russell Wilson, Wisconsin: A 5-11, 201-pound senior from Richmond, Va., Wilson has led the Badgers to a 10-2 record and a shot at the Big Ten championship by throwing 28 touchdowns and just three interceptions. He also has rushed for 325 yards and five touchdowns.
Copyright 2018 The Lawrence Journal-World. All rights reserved. This material may not be published, broadcast, rewritten or redistributed. We strive to uphold our values for every story published.