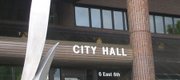 Subscribe to the email edition of Town Talk and we'll deliver you the latest city news and notes every weekday at noon.
News and notes from around town:
• Several weeks ago we told you to keep an eye open for a call center to move into North Lawrence's I-70 Business Center and add about 70 jobs. Well, now we have more news on the project, and it is better than expected. Lawrence's Student Financial Aid Services Inc. has confirmed that it is moving into the center and could be adding as many as 105 new jobs in the near term.
Student Financial Aid Services has been based out of the Golf Course Superintendents Association building in West Lawrence. But the company's business has been growing — the company started in Lawrence with eight employees and currently has 70. This move — which is expected to be completed next week — allows the company to triple its space.
The company specializes in providing financial planning and assistance for students and families that are seeking financial aid for college or post-secondary education. The company is a subsidiary of a larger financial aid services company, The Rezolve Group. The local operations are run by longtime Lawrence resident Aaron Detwiler.
The company plans to hire for four types of positions as part of its expansion:
Student aid advisers who respond to inbound calls from existing clients who need assistance in preparing for financial aid assistance.
Student aid sales specialists who handle inbound calls from first-time clients inquiring about the company's services.
Service center supervisors who manage teams of about 15 to 20 advisers.
A variety of positions in marketing, human resources, training and quality assurance.
The company plans on having an on-site job fair during the first quarter of next year. People interested in applying for positions can contact the company at lbrown@sfas.com.
• Folks who are hoping to see a renovation of the historic Masonic Temple in Downtown Lawrence ought to be waiting on the edge of their seats about now. As we previously reported, city commissioners approved a substantial package of financial incentives for the project. The incentives were thought to allow the building's owner — a group led by local businessman Doug Compton — to renovate the place for local caterer Steve Maceli to use as a unique reception and banquet hall. But Maceli — who would continue to operate his existing location on New Hampshire Street — has confirmed to me that he hasn't yet signed a deal to move forward on the project. He said figuring out how to cover the operating expenses of the building has been tougher than he originally envisioned.
"It is a big monster of a building," Maceli said. "We are taking our time to be very thorough. It would be a project of significance in a building of significance. If we do it, we want to do it right."
Maceli hasn't officially declared the project dead, but it clearly has moved into the category of "if it will happen" rather than "when it will happen."
Maceli said he is meeting with the building's owners again soon, and he said Compton had been open to a lot of ideas to try to keep the project alive.
"Doug Compton has been working with me as best he can," Maceli said. "He really has been great to work with."
The city structured the incentive package — which included property tax rebates and cash assistance to make some ADA and fire sprinkler improvements — in a way that required the building to be used as a banquet/reception hall.
Basically, if the Maceli's deal falls apart, so does the incentives package. That likely would mean that Compton would be back to square one in trying to renovate the building and finding a user for it. Compton previously has conceded that it has been tough to find a user for the unique layout of the 100 year old building. The building — which is at 10th and Massachusetts streets — has been empty for eight years.
• This weekend is a big one for getting into the Christmas spirit. Downtown Lawrence's Old Fashioned Christmas Parade will start at 11 a.m. on Saturday. But if you want to do a double-header, the folks in Eudora have an event going on Sunday. The Eudora Chamber of Commerce will host a Holiday Extravaganza Open House that will benefit the Eudora Food Pantry and Community Living Opportunities. The event will include a silent auction for decorated Christmas trees, sleigh rides provided by CLO's Midnight Farms, pictures with Santa, treats for the kids and musical entertainment. The event is charging $5 for a picture with Santa or that fee is waived if you donate two cans of food. Donations also are accepted for the sleigh rides. The event will run from 2 p.m. to 5 p.m. at the Eudora High School, which is just south of the Kansas Highway 10 and Church Street interchange.
Copyright 2018 The Lawrence Journal-World. All rights reserved. This material may not be published, broadcast, rewritten or redistributed. We strive to uphold our values for every story published.