Gov. Sam Brownback, Attorney General Derek Schmidt and other Kansas officials said Thursday proposed federal restrictions aimed at increasing safety for children working on farms go too far.
"The learning opportunities provided by working in agriculture are second to none," Brownback said. "Spending time on a farm or ranch teaches young people the value of hard work and instills in them a respect for land and animals," he said.
Schmidt said, "This proposed regulation is a one-size-fits-all bureaucratic assault on rural culture. If this had been the law when I was a kid working on my grandpa's farm, a formative part of my childhood would have been illegal."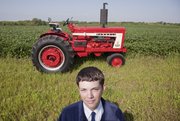 The officials were criticizing a move by the U.S. Department of Labor to update child labor regulations in agriculture.
"Children employed in agriculture are some of the most vulnerable workers in America," said U.S. Secretary of Labor Hilda Solis. The fatality rate for young agriculture workers is four times the rate of young people working in non-agricultural workplaces, according to the Labor Department.
The proposal would prohibit farm workers under age 16 from operating almost all power-driven equipment unless the child was under the supervision of a parent or guardian. It also would restrict youngsters from working around certain animals and handling pesticides.
Some agriculture officials have said the restrictions are too much and would hurt family farmers who depend on youngsters to work on the farm.
In addition to Brownback and Schmidt, the federal proposal was criticized by Kansas Secretary of Agriculture Dale Rodman, Secretary of Commerce Pat George and Secretary of Labor Karin Brownlee.
Copyright 2018 The Lawrence Journal-World. All rights reserved. This material may not be published, broadcast, rewritten or redistributed. We strive to uphold our values for every story published.