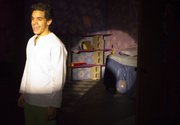 Past Event
When: Wednesday, August 31, 2005, 9 p.m. to 1 a.m.
Where: Harbour Lights, 1031 Mass., Lawrence
Cost: $2
-->
-->
Imagination drives our wildest dreams. It makes the impossible possible, keeps us going and lets us picture the future or past with a single thought or a thousand.
For a child, that power is tenfold — vivid, precise and unbounded.
The weight and scale of imagination is on display as the basis for the Kansas University Theatre's new original musical, "Noah's Art."
The story isn't that of Noah and his ark, though the title is a play on the Biblical tale. Rather, it's the story of a 9-year-old boy named Noah, whose imagination starts performing miracles after Santa's gift isn't exactly what he'd pictured.
"All he wanted for Christmas was a train set and when he got a box of crayons and a notebook instead, he thought that Santa didn't understand the letter that he sent," says Kansas City-based artist Alex Espy, who directs the show. "So, he decided to draw a picture of a train set for Santa to fully illustrate what he wanted for Christmas. And in the course of drawing, Noah wanted it so bad, that the next morning when Noah wakes up, an actual train set is waiting for him in his room. And so, through the course of the show, he draws other things and they come to life, and so really it's about the power of imagination and if you truly want something bad enough, you can get it."
The whimsical tale of this Noah is written by New York playwright Nathan Tysen and University Theatre accompanist Ryan McCall. Tysen wrote the words and lyrics, while McCall, who also serves as music director and sound designer for the production, composed the music. The show was first staged in 1998, but has since been reworked extensively — including during the rehearsal process at KU. McCall was at daily rehearsals tinkering and Tysen came to visit in November and did a slash and burn and remolding of some of the scenes.
"While Nate was here we did another rewrite and cut a song," McCall says. "Only one musical passage remains from the 1998 production."
The shifty nature of the musical made for an exciting and interesting experience for Gil Perez-Abraham, who stars as Noah. A junior at KU, Perez-Abraham cherished every line of dialogue he had to re-memorize.
"We were expected to memorize all of it, all over again, all over night. I basically had one night to memorize 40 percent of the script," he says, joking that college actors don't get that kind of experience "unless you go to Yale or something." "It's a great experience because it's the way it is in New York for a lot of young musical performers. This is what a lot of musical performers do — is get into these kind of shows to hope that they make it big. So, it's a good experience for us here at KU."
After its staging at KU, the musical will begin the licensing process for Theatre for Young Audiences, meaning it will be available for any group to perform. Espy says that as a director, he also relished the opportunity to work directly with the play's creators to help mold this 2011 version into a sort of demo for others who might stage "Noah's Art." The final product is something that is truly fit for an all-ages audience says Espy.
"A lot of times, the material for young people in theater can be condescending or it can border on simplistic," says Espy, who actually attended Missouri State with Tysen and has known about the musical since the 1990s. "But this story and this script and this material is sophisticated."
Perez-Abraham is certain the play will speak to anyone who sees the production, whether they're children, parents or just theater lovers wanting a sneak peek of the show before it's licensed, simply because they'll get to connect (or reconnect) with the joy of imagination.
"Ryan and Nathan definitely have, I think, a diamond," Perez-Abraham says. "It's just the kind of show that touches people's hearts. Little kids will get it because they have the kind of characters they like to look up to — the characters they want to be like. And then, adults will appreciate it because it's the story of every young American family ... struggling to support your kids and your kids have huge imaginations."
Copyright 2018 The Lawrence Journal-World. All rights reserved. This material may not be published, broadcast, rewritten or redistributed. We strive to uphold our values for every story published.