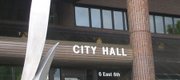 Subscribe to the email edition of Town Talk and we'll deliver you the latest city news and notes every weekday at noon.
News and notes from around town:
• Well, I'm on assignment today, so this Town Talk will be a little shorter and perhaps a bit more incomplete than normal. (And no, I don't have the genius deal that Walter Cronkite used to have. The story goes that Cronkite named his sailboat Assignment so that his substitute anchor on the CBS Evening News could honestly say that "Walter Cronkite is on assignment tonight." I'm just in Wichita, and why would you mar a boat by naming it Wichita.) I also did not take a jet down here, which means I did not spend any time in a jet lounge, which means . . . man this has spiraled out of control. What I'm trying to say is it looks like changes are in store for the longtime Lawrence bar The Jet Lag Lounge at 610 Fla. The city has received a drinking establishment license for the 610 Fla. location to become R Bar & Patio. It looks like the new business will be run by Lawrence residents Scott Newell and James Shaffer. I haven't had a chance to get in touch with them yet, but will let you know their plans once I do. From what I hear (although I haven't seen it) The Jet Lag is no longer open but the space is undergoing a remodeling.
• You would think we're in a recession or something, but that can't be because the government economists say we're not. Regardless, growth in the discount store market has been good. North Lawrence added a Dollar General within the last year, and now Eudora is set to get a Family Dollar store. Family Dollar has filed plans to build a new location along Church Street, kind of in front of the Dairy Queen, if you are familiar with that establishment. (My wife is trying to talk me into getting a line of credit at the establishment. Should that worry me?) Eudora City Administrator John Harrenstein said the project will get a hearing at the city planning commission's Sept. 7 meeting. He thinks the project could have all the approvals it needs to proceed by early November. Harrenstein said the store is expected to sell some products that Eudora residents currently leave town to purchase. He also said he expects the project to eventually add momentum to the idea of redeveloping the former Nottingham Elementary site into a commercial center. The old elementary school is just across the street from the location.
" I think they will be leading the pack on this," Harrenstein said. "I think their success will lead to more success."
• History buffs, or really anybody who can spell Sesquicentennial off the top of their head, should mark their calendars for Sept. 9. Clenece Hills, a longtime supporter of the Sesquicentennial Point project, is asking anyone interested in seeing a new round of improvements for that park out at Clinton Lake to show up at a meeting. She will meet, along with Parks and Recreation staff, at 1 p.m. on Sept. 9 in the Parks and Recreation offices at 10th and New Hampshire streets. (They're in the office space above Pepperjack Grill.) The meeting mainly will be a brainstorming session about how to get fundraising efforts for the park restarted. The park is in need of more sponsors for special stones near the plaza area of the park that commemorate certain years in Lawrence's history. But long-term plans for Point -- which is on the big hillside just east of the Clinton Lake Dam -- call for the area to really become a prime gathering spot for large community events. But Hills said she recognizes that public funding for improvements at the park aren't likely at this time. Hills said the meeting is open to everyone who has an idea for the Point or who wants to lend a hand.
Copyright 2018 The Lawrence Journal-World. All rights reserved. This material may not be published, broadcast, rewritten or redistributed. We strive to uphold our values for every story published.